The AGS Airports mobile application offers the user a range of services to provide a smooth air travel experience, from arriving at the airport to boarding the plane. It uses technology to enhance the passenger experience.
Getting to the plane can be a trip in itself. From the moment you arrive at the airport, there are a number of things you must do in order to reach the boarding gate on time and board the plane without a hitch: from parking your car to checking your luggage to finding your boarding card and keeping track of your children. Today's world is digital, and travel is no exception. What if these variables could be managed with a mobile app? The AGS Airports smartphone app improves the passenger experience by enabling passengers to track flights, navigate the terminal, book parking, VIP lounge, COVID-19 tests and more.
The project, which arose out of the Digital Passenger Experience launched in 2018 at Glasgow and Aberdeen airports, together with the Digital Hub, focused on understanding passengers' experience and anticipating their needs. The result is AGS, an app that makes trips easier from start to finish. Travelers can subscribe to arrival and departure updates up to 48 hours in advance and pre-book parking, which makes planning easier. Once at the airport, passengers can navigate the terminal with an airport map, get live flight updates instead of searching airport screens, pre-order food in the terminal, and even get coupons and discounts from shops and restaurants.
"With digital being at the core of our travelers' needs before, during and after their flight, having an app that can seamlessly support all of our customers' needs through every aspect of their journey is vital"
COVID-19 marked a turning point in every aspect of our lives, including travel. For that reason, the AGS app experienced a major upgrade in 2020. Glasgow and Aberdeen airports deployed beacons to support the app by sending push notifications to assist with navigating the terminal and provide information such as updates on the health situation and keeping passengers aware of security requirements. They also deliver notifications to encourage passengers to take advantage of the wide range of retail options across the airport, as well as supporting on-demand transactions in the terminal.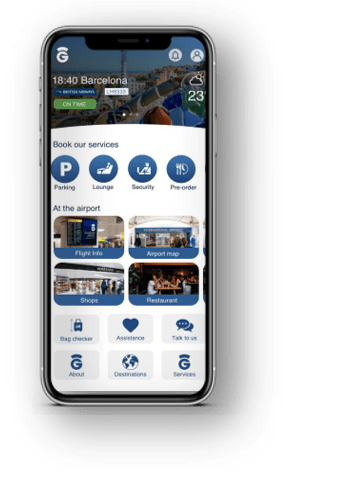 "While the core purpose of the app is to help our passengers through the airport experience, it has taken on a new role due to COVID-19 by helping us keep our passengers safe and informed and adapting to changing booking and purchasing habits," said Ralston.
The idea is that the AGS app will evolve as technology advances. Near-term improvements are likely to include updates to online customer service, more personalization and e-commerce. AGS will further expand its digital presence in Glasgow with the launch of Clyde – a voice bot to support Glasgow Airport customer service – that will make Glasgow one of the first airports in the UK to be on Alexa and Google Home. Clyde will be able to share flight status, help with special assistance, provide the latest COVID-19 travel information, report security wait times, register a lost item … it will even be able to sing Happy Birthday to passengers.
This could be a first step in creating a digitally supported travel experience: "Digital is core to restoring passenger confidence in air travel as it rebounds from the pandemic," said Ralston. "I think we are just at the start of what we can do to create a world-class digital passenger experience."