Toll roads are part of everyday life for most people. Many use them on a daily basis to get to work, take the kids to school, or get to their favorite leisure activity. For that reason, it is vital that roads are in perfect condition so as to minimize the risk of accidents, and that they have highly efficient services to resolve any incident that may arise.
It is not easy to manage a toll road, and it is made more complex by the fact that a lot of tasks need to be performed at night so as to minimize disruptions to traffic. Twilight is a time when drivers tend to be distracted. The lower visibility increases the risk of incidents, and makes solving them more dangerous.
"We are required by the concession contract to do most repairs at night, but drivers may need roadside assistance at any time. There have been cases where drivers who had drunk alcohol collided with our maintenance vehicles," says Alberto González Lalueza, head of Ferrovial's toll roads in Dallas. "Fortunately, there have been no serious injuries", had adds.
Given this situation, and with a focus on employee safety, Cintra began to look for solutions. The first option was to use a larger vehicle with a built-in attenuator, something that could absorb the force of a collision. Although this greatly improved worker safety, the vehicle was ungainly and not efficient enough to address incidents as quickly as desired.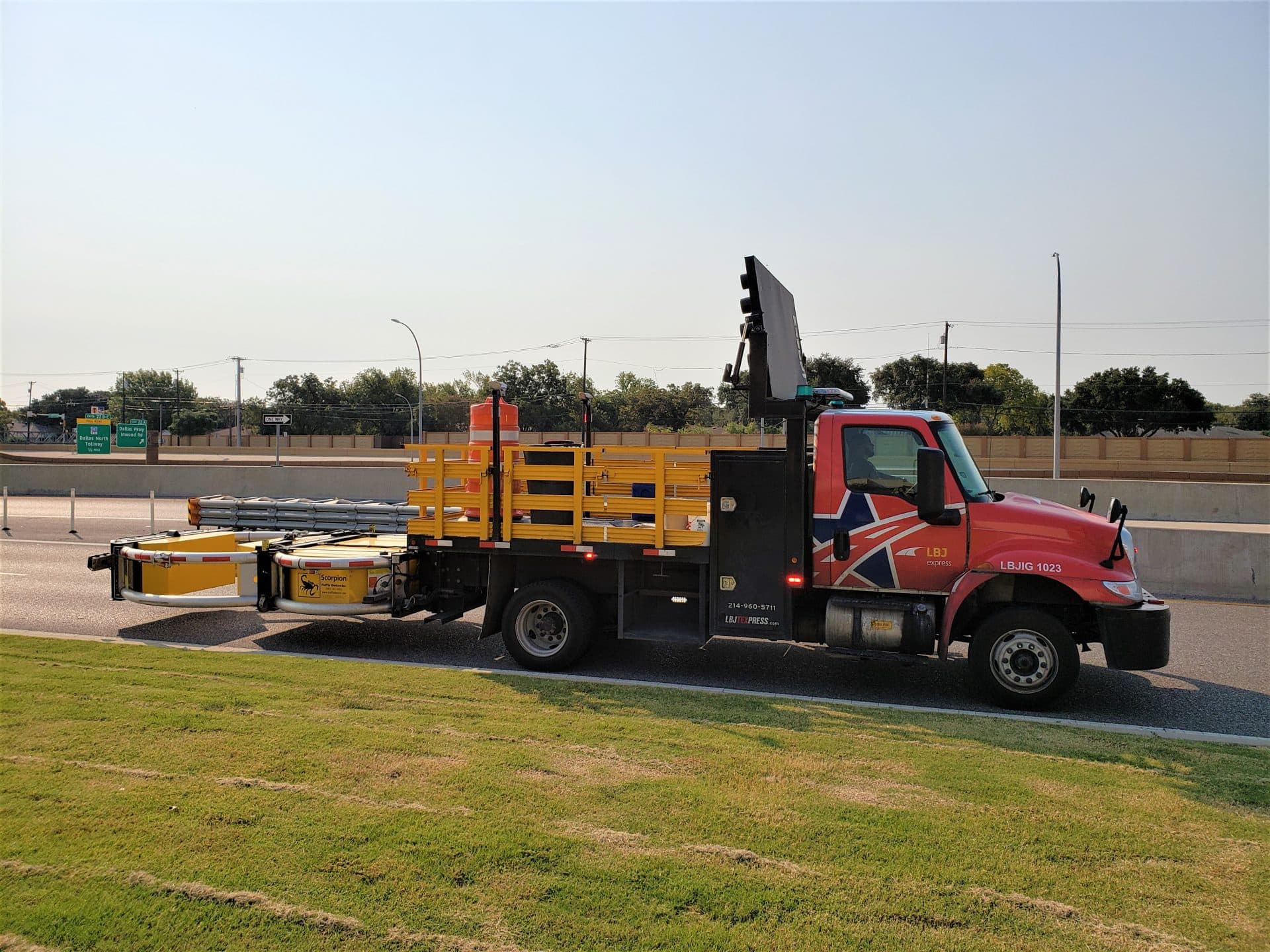 "In order to maintain our level of user service, and with a focus on safety, we developed ARMAD", says Alberto González Lalueza.
ARMAD, which stands for Attenuated Roadside Motorist Assistance Device, is a small truck that meets all the requirements to carry a crash cushion.
"This custom vehicle was developed over a six-month period and is designed to meet our requirements," says Alberto. He notes that the fact that ARMAD does not have a central console makes it easy to exit the vehicle on either side. The vehicle is fitted with a large number of lights and offers greater operational efficiency because of its lower weight.
Whether assisting a driver with a breakdown or providing support in an emergency situation, our crews are now able to work in safety, protected from the risks posed by fast-flowing traffic.
Cintra has deployed two ARMAD vehicles on its Dallas-Fort Worth highways and expects to bring two more into service shortly to support the three toll roads that the company operates in that area.
ARMAD has gained admirers. In March it received an award from the Regional Transportation Council of the North Central Texas Council of Governments e during National Traffic Incident Response Awareness Week.
"We put a lot of work into designing ARMAD, because we wanted it to be the safest, most reliable and most efficient road incident response vehicle," says John Reneau, Director of Roadway Maintenance for LBJ/NTE/35W. "This vehicle will allow our crews to enhance our overall processes and procedures while improving employee safety."
ARMAD met with a very enthusiastic response from our crews on these roads, and its success is clear from the figures. The number of roadside assistance events has risen to nearly 2,500 so far this year, without any accidents.