Through centralized and collaborative management, the Ferrovial Services Energy Control Center is a unique and integrated option for managing and optimizing the energetic supply.
The law of conservation of energy states that energy is neither created or destroyed, only transformed. What it doesn't say is that the use of energy for transformation involves consumption, a pocket expense and waste for the environment.
In order to offer customers a service that allows them to manage their energy consumption more efficiently, Ferrovial Services has created the Energy Control Center. There, more than 30 contracts are monitored in Spain, the United States and Australia of different kinds: public lighting, hospitals and senior citizen homes, schools, sports centers, offices, waste treatment plants and urban heating systems.
As explained by David Pocero, Director of Technology and Innovation at the Ferrovial FM and Energy Competition Center, "the project arises out of the need to enhance the work of the Energy Systems team by equipping it with infrastructure and a work environment to multiply its capabilities and the potential of the Hefesto platform".
So, what exactly is Hefesto? It's a digital tool developed by Ferrovial Services in collaboration with the innovation team and the Digital Hub which integrates remote facility measuring systems, the storage of data collected in an internal database and energy efficiency software. This makes it possible to monitor consumption in real time as well as the status of building and public lighting systems. More than 4000 supply points and 2500 remote measurement devices are currently managed which enables the analysis of 316 GWh of energy amounting to an approximate cost of 25 million euros.
Until this software was installed, this management was done using different information exploitation and data capture applications which were not homogeneous and had limited analysis and reporting capabilities. With Hefesto, all the data are centralized and analyzed  transversally to create know-how that makes the Energy Control Center a unique and integrated option for managing and optimizing the
electricity supply. Hefesto provides a higher analysis, monitoring and reporting capacity with less effort by the managing authority, greater independent with respect to outside suppliers, improved information transfer and optimized energy savings.
Customers and contract managers also have access to the Hefesto platform. Irrespective of their role, each user can configure their own interface and define the data they wish to view. By using the information and platform capabilities from  invoice simulation to report generation as well as the verification of savings and warnings related to costs and abnormal consumption, the professionals at the Energy Control Center can advise customers on how to define targets and monitor them.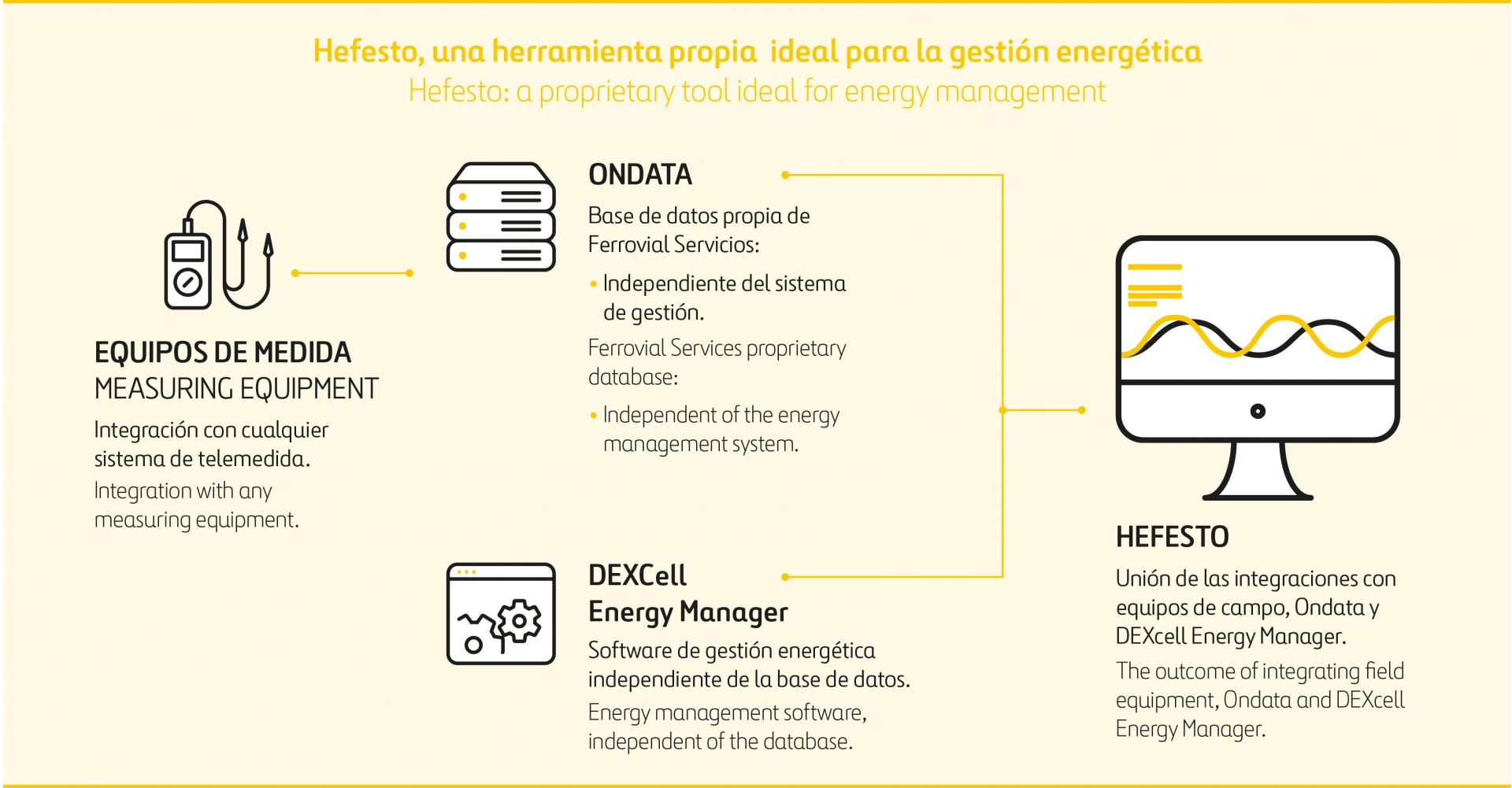 "Customers know their energy cost is optimized and supervised by a team with the best technological resources available. Moreover, it  allows them to stand out above their competitors who are not managing their energy or are doing so in a much more  limited way," says  Francisco Pérez Zarco, manager of the Control Center.
The Center's different consulting areas include energy procurement, recommending customers the best energy buy strategy, optimizing rates and the power contracted or managing and minimizing the risks deriving from energy price fluctuations. The Center has achieved 4% savings without additional investments in its first year of operation.
As Pocero explains, "our plan is to scale the Control Center as a product for our customers which will likely make us grow in terms of physical space". From an operational perspective, he indicates that it will include "new technologies within the control center such as remote assistance using augmented reality, a 24/7 operation model and working with artificial intelligence to detect and analyze incidents"