LBJ Express highway sponsored for the third year, a STEM Camp Day for 140 Carrollton-Farmers Branch ISD students
On Wednesday, June 12, LBJ Express highway sponsored for the third year, a STEM camp day for 140 Carrollton-Farmers Branch ISD students. LBJ Express has partnered with Carrollton-Farmers Branch Education Foundation, the STEM camp organizers, to help teach middle schoolers STEM and civil engineering concepts. In those three years, the three-day, STEM camp has been hosted at Barbara Bush Middle School and has impacted approximately 440 middle school students.
Over the years, LBJ Express has challenged the students to build different structures out of K'NEX pieces. Previous design challenges have included a bridge and a tower. After the success of the past two challenges, LBJ Express developed a new curriculum and came up with the LBJ Express Crane Design Challenge. Thirty-two volunteers from LBJIG, NTEMP, NTEMPS3, NTI, Webber and Jacobs came together to represent LBJ Express at the STEM camp.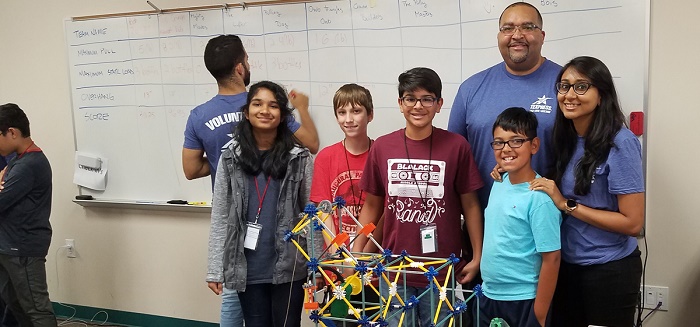 At the beginning of each session, LBJ Express explains several civil engineering concepts and applies them to real-life examples and challenges that are not only important to consider for the design challenge but also for when an engineer is on the job in the day-to-day. After the presentation, students get to become "civil engineers for the day" and are divided up into even smaller groups so that LBJ Express volunteers can provide individualized instruction and mentorship.
Students were given the rules of the challenge, presented with the judging criteria and were asked to build a crane that was a minimum of one foot tall with an overhang of at least 4 inches. The challenge also required the use of gear mechanics and a K'NEX motor to be incorporated into their design. The winning crane would be determined by a series of tests. Each groups' competitive edge was in full force as students eagerly waited for the 120-minute countdown to begin. The winning crane held 2 bottles of water and had a maximum pull strength of 8.20 lbs. All in all, students successfully applied the civil engineering concepts that they learned from LBJ Express and also practiced team work, strategic thinking and public speaking.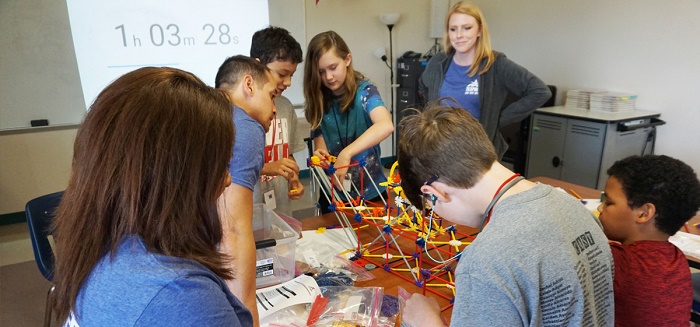 Jean Elias, Senior D&C Engineer for NTE 35W, third-time volunteer who developed the LBJ Express Crane Design Challenge curriculum, commented on his experience:
"I understand how a simple activity in a camp can inspire a kid and decide to pursue a career in STEM. Some of these kids are already interested, but do not have a close family member that has pursued a STEM career to guide them, so hopefully we are giving them additional tools and inspiration to follow this path."
"The hours spend at the STEM camp were totally worth it! The kids are very creative, and some of them are natural leaders. I was impressed by how much and how fast they can learn from each other, as well as by the genius ideas they came up with. I would love to volunteer again next year!"