Built on 55 years of construction experience, Webber, LLC has grown to be one of the largest general contractors in Texas, nearly doubling in revenue and backlog over the past three years.
Headquartered in Houston with regional offices in North Texas and Central Texas, Webber has more than 2,000 employees and manages about 100 projects across Texas, Oklahoma and Arkansas.
With the acquisition of PepperLawson Construction in 2016, Webber's capabilities have grown to include vertical construction and waterworks expertise for water treatment, reuse and desalination facilities. These complimentary business lines will all allow Webber to fully leverage the global resources of our parent company and one of the world's largest infrastructure companies, Ferrovial S.A., while serving our clients comprehensively.
As part of the diversification and reorganization of the company, Webber has appointed four proven leaders to head each of the divisions: commercial, heavy civil, waterworks and materials. With each focused on their division while collaborating to provide our clients with the best delivery and service, Webber will take on larger projects while continuing our track record of excellence in safety, innovation and construction.
HEAVY CIVIL | Curtis Van Cleve was named President of Webber's Heavy Civil Division in early 2017 after originally joining Webber in March 2013. He has been in the Construction business for over 33 years and has worked at many prominent construction companies in Texas and along the East Coast. Curtis was named the 2012 Executive of the Year in Transportation by the American Business Awards and is active in the AGC of Texas, DBIA, ARTBA and the Texas Concrete Paving Association.
COMMERCIAL | Todd Granato became President of PepperLawson Construction (now Webber Commercial) in 2014, and has been instrumental in maintaining the company's high level of performance and integrity while integrating the company into Webber. Todd has more than 31 years of construction experience and has managed commercial projects in-excess of $100 million. Well-known and respected in the Houston AEC community, he serves on a number of local organization's including the Katy ISD Bond Committee, Houston ISD Foundation and the Texas Tech University's School of Engineering Dean's Council.
WATERWORKS | Atul Raj led PepperLawson Construction into the water business in 1993 and later became co-owner of PepperLawson Waterworks. Seeing the potential for growth into the DBFOM in the water industry, Atul orchestrated the deal to sell PepperLawson Construction to Webber to obtain access to the resources necessary to achieve these goals for the company. Atul is now President of PLW Waterworks. He is involved with many industry organizations including TXWIN, AGC, HCA, WDBC and AWWA, as well as a frequent speaker at industry events.
MATERIALS | Richard Henderson was named Managing Director of Southern Crushed Concrete (SCC), the materials division of Webber, in late 2016. He has been focused on diversifying SCC's material offerings, which includes recycled crushed concrete, recycled asphalt, sand mining and demolition services across 13 locations in the Greater Houston-area. Richard joined Webber in 2014 and has more than 25 years of experience in the construction and materials business across the U.S.
"The need for both transportation and waterworks infrastructure is at an all-time high in the U.S. and there is strong demand in the commercial sector in Texas driven by population growth and the positive business environment; Webber's strong market position, with specialized business lines will allow us continued growth and success under the direction of our four division leaders"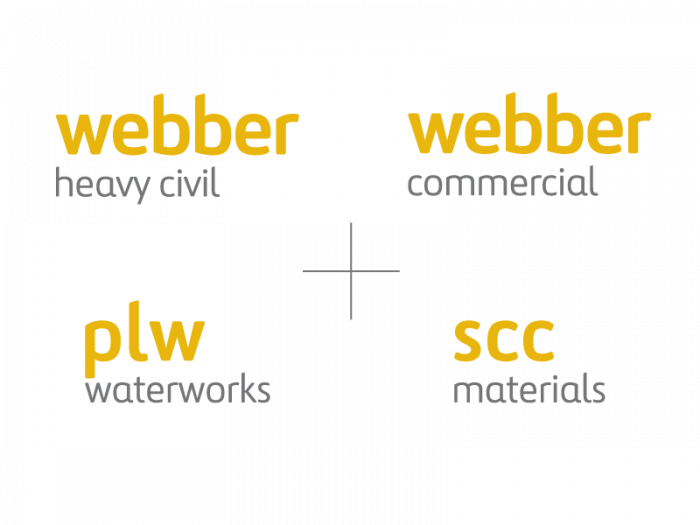 About Webber, LLC
Founded in 1963, Webber is a leading heavy civil, commercial and waterworks construction company and material producer dedicated to safely providing intelligent solutions to its clients and community. As a wholly owned subsidiary of Ferrovial S.A., an international company based in Madrid, Spain, Webber has access to a global network of skilled engineers, best-in-class technology and vast resources. Webber is headquartered in Houston, Texas, and has been rated by Engineering News-Record as one of the largest transportation contractors in the Texas/Louisiana region.
For more information on Webber, please visit www.wwebber.com.