Jose Ángel Tamariz, director of Europe and New Markets at Cintra, participated in the Global Forum on Engineering and Public Works in Santander. The event took place on July 6 and 7 at the Palacio de la Magdalena in Santander, in the 8th edition of this forum organized by Fundación Caminos in collaboration with the College of Civil Engineers, Canals and Ports, the Demarcation of Cantabria , the Menéndez Pelayo University and the Ministry of Transport, Mobility and Urban Agenda.
Nadia Calviño, First Vice President and Minister of Economic Affairs and Digital Transformation, opened the forum on its first day. Raquel Sánchez, Minister of the Ministry of Transport, Mobility and Urban Agenda, did the same on the second day and Teresa Ribera, Third Vice President and Minister for the Ecological Transition and the Demographic Challenge, closed the event.
The purpose of the meeting was to initiate debate between members of the Civil Engineering profession, engineering, construction, energy and services companies to examine the situation of public investment in the current situation in Spain.
Cintra and Ferrovial contributed with their vision with the representation of Jose Ángel Tamariz, who participated in the block on transport, mobility and the urban agenda with a presentation that highlighted the challenges and solutions in the mobility of the future. This presentation explained some of the company's most ambitious projects, such as the AIVIA Smart Roads solution, one of the most advanced technological solutions that contribute to improving mobility.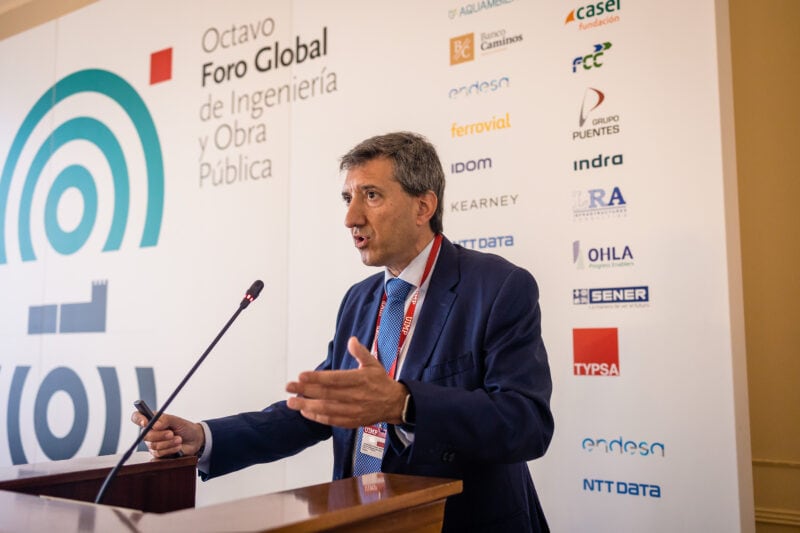 In his exhibition, José Ángel reveals one of the keys to the new mobility: sustainability. This has become one of the main concerns for all the actors involved, therefore, the solution to current mobility problems involves thinking about "more efficient, accessible and equitable transport infrastructures, reducing their impact on the environment ", he added.
Some of the current measures that are proposed as a possible solution for these scenarios are: multimodality, the improvement of public transport, the electrification of transport, or the restriction of the circulation of polluting vehicles, together with technological advances.
However, some of these traditional measures have some limitations when it comes to providing a complete and lasting solution before the new challenges of increasing mobility, "these actions must be accompanied by other types of innovative solutions, so that they represent a real and substantial improvement in congestion reduction" he added. Innovation is the key, new technologies make it possible to improve the safety of infrastructures and better optimize resources and, in turn, contribute to the sustainability of the environment.
José Ángel gave some insights into the main solutions that the company is carrying out, such as: Smart Infrastructures (AIVIA Smart Roads) and Smart Charging Systems, which contribute to the improvement of infrastructures and guarantee access to transport for all citizens.
These projects could solve mobility problems and in turn contribute to the reduction of emissions. José Ángel explained in his speech that "these problems require coordinated actions and public-private collaboration".
Find out more about AIVIA Smart Roads