Telefónica's digital business unit is the first Spanish company to join the project, evidencing its commitment to the future of mobility.
Ferrovial has reached an agreement for Telefónica Tech, Telefónica's digital business unit, to join AIVIA Orchestrated Connected Corridors, an initiative to develop smart 5G highways with advanced oversight, sensorization and simulation technology.
5G networks will play a key role in developing the infrastructures of the future. This technology will transform formerly passive roads by enabling them to supply information to vehicles that improves travelers' experience and safety, ensures reliable travel times and provides access to infotainment.
To ensure a smooth exchange of information between the vehicle and the road, it is necessary to implement digital and physical infrastructure and orchestrated solutions for the roads of the future. In addition to enhancing user comfort and safety, this approach optimizes resource use and reduces transit times.
Under the agreement, Telefónica Tech joins existing partners Microsoft, 3M, Kapsch TrafficCom and Capgemini. Other companies are expected to join in the development of smart corridors, working on such areas as signage, road surface markings, telecommunications equipment, ITS/V2X digital services and road safety systems.
Advancing towards the mobility of the future
AIVIA will implement high-speed technologies in mixed traffic flows to improve the experience and safety of users on the roads, and of the personnel who maintain them.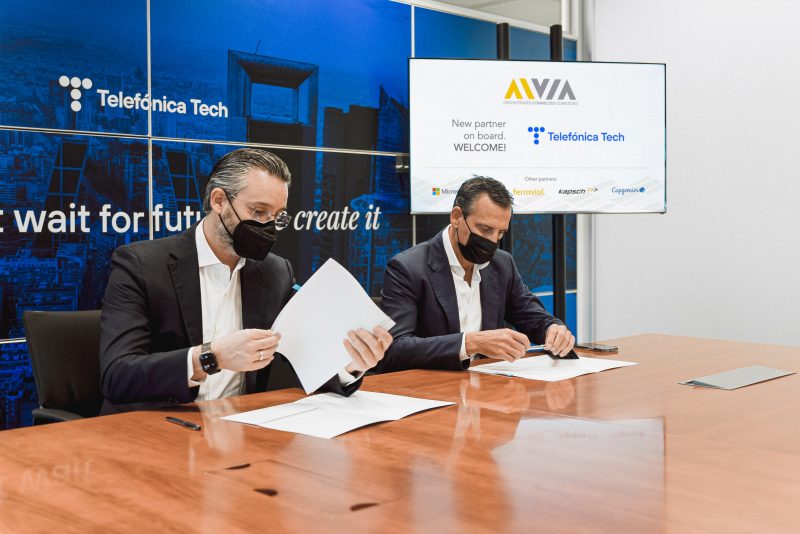 "This project arose out of Ferrovial's ongoing bid to create the infrastructures of the future," said Dimitris Bountolos, Chief Information and Innovation Officer (CIIO) at Ferrovial. "Artificial intelligence, edge computing and virtual reality are already part of the company's day-to-day operations. AIVIA perfectly exemplifies Ferrovial's focus on innovative, sustainable transport infrastructure and mobility," he concluded.
"Telefónica Tech joining this initiative is a sign of our commitment to be at the leading edge of changes in consumer and company behavior. This alliance further reinforces our positioning vis-à-vis connected mobility as one of the key factors for the future through anonymized access to a large amount of data which, once processed and analyzed with advanced technology (Big Data, Edge computing, etc.), can provide valuable insights for business decision making," said Jose Cerdán, CEO of Telefónica Tech.
With a significant international footprint, including its main markets of Spain, United Kingdom, Germany and Brazil, Telefónica Tech has developed numerous connected mobility solutions in the last year that favour flexibility, efficiency and sustainability. They include Fleet Optimise, a solution developed with Ferrovial for smart management of vehicle fleets. Sensorizing fleets reduces trips and fuel consumption, enhances safety and drives predictive maintenance.