Excel on the road to sustainability. This was one of the keys behind launching the carsharing service, ZITY. In 2017, Ferrovial, in partnership with Renault, launched this Joint Venture with a fleet of 658 electric vehicles. The goal was to address the challenge of sustainable mobility in cities. This transformation for transport in an urban environment has reinforced both companies' green credentials.
Since the rise of the automobile in the 20th century, this industry has aimed to ensure smooth traffic and increase safety in cities. Now the challenge is to go one step further: to reduce harmful gas emissions, fight against pollution, encourage shared mobility and, above all, guarantee safety and protection for users with smart innovation systems. These systems are characteristic of this futuristic industry in which we find ourselves.
It is in this framework, in order to improve the safety and experience of its users, that the mobility company shared by Renault and Ferrovial, with the help of Ferrovial's SafetyLAB, Ferrovial's innovation laboratory in health and safety,  launched the "Safe Driving" project. This is a pilot test that includes the installation of different telemetry devices, driving assistance, and loudspeakers in over 100 ZITY cars and will improve contact with users.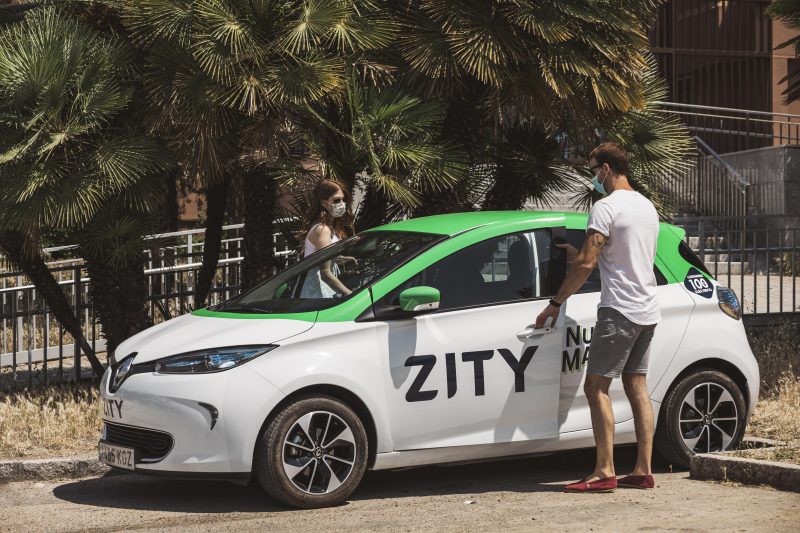 "The main objective is focused on increasing safety and the assistance service for the platform's users," Javier Mateos, Zity's CEO, explains. "We're continually looking for the best providers and the best technologies to provide a safe, exceptional experience so that our users will keep using our services instead of turning to other companies," he emphasizes.
As such, ZITY has installed a wide range of driving assistance and telemetry solutions to facilitate accident prevention with the help of Telefónica, GEOTAB, and Mobileye. This portfolio of systems improves safety for users as well as enables the collection of more information about the fleet.
The GEOTAB telematics device collects information in real-time on vehicle parameters (speed, acceleration, engine status, alerts, and more), and it provides personalized reports to help improve fleet management. The advanced driver assistance system (ADAS) is made to prevent accidents with a camera that monitors driving and warns the driver of potential hazards at the wheel in real-time. This happens through a display, which provides information on road signs, obligatory lane change warnings, the safe distance to vehicles in front of the car, and alerts on frontal collisions with other vehicles, cyclists, or pedestrians. Lastly, the GOTALK loudspeakers are yet another solution developed by the three companies for ZITY. This system provides information about ZITY's service, the rules, packs, and special offers. It provides relevant messages about ZITY parking spaces, news, or restrictions in the service area, as well as messages about the user's driving to boost their safety.
The development of this innovative set of systems for the pilot test will determine its future and, of course, its potential installation in the over 800 vehicles in ZITY's fleet. As always, our goal is to maintain the company's safety standards and provide a better experience with the information collected. As Mateos puts it, "the company's aim will always be to offer a safe and unique user experience guaranteed." – something ZITY has been working on for almost three years.