The execution of the project to improve the urban section of the Toloto stream, a tributary of the Ibaizabal river, has been completed by Ferrovial Construction.
The Toloto stream, which was piped years ago under the town on its way through Elorrio (Vizcaya), has been recovered after restoring the 300 meters before it flows into the Ibaizabal river.
The project consisted in the creation of a new open-air river bed with a hydraulic capacity sufficient for a flow of 21 m3/s. Two bridges had to be built and all the affected services and riverbank vegetation had to be replaced.
It was a priority to respect the presence of native species, such as the European mink (Mustela lutreola). The works took place in an urban context and adjacent to a kindergarten, so it was necessary to adapt the execution of demolition and execution works to the needs of the neighbors and children.
According to Xabier Aguiar, Works Manager, "the execution of a new riverbed in an urban area such as Elorrio has forced us to combine technical and environmental actions, leading us to contribute new ideas to the project, improving the final result of the project".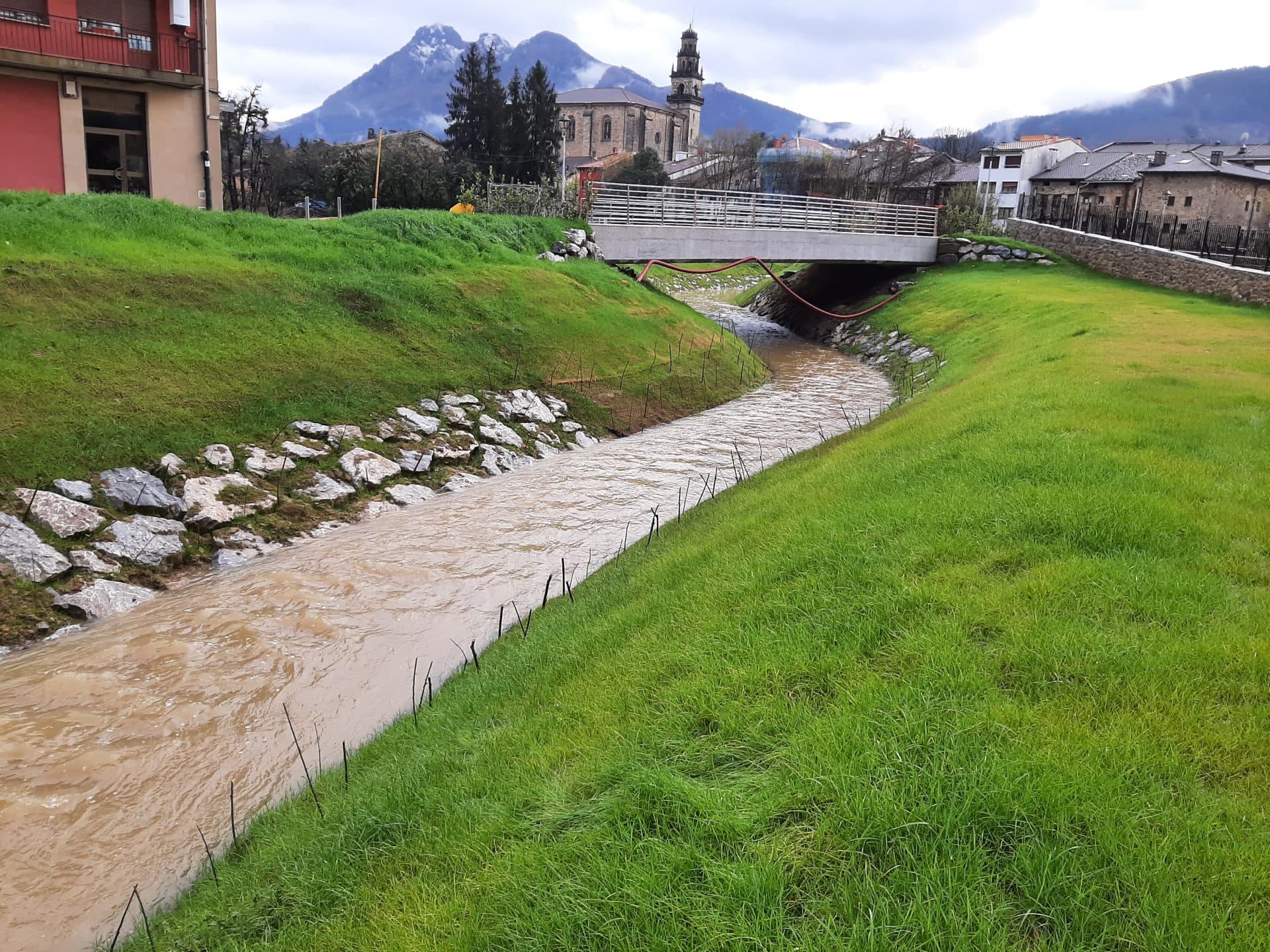 A new environment
To recreate a new environment of faunistic interest and ecological connectivity, it was necessary to combine different engineering techniques in the riverbed to support the expected erosions. Also, concrete structures were demolished at the junction of the new riverbed with the Ibaizabal River. An exhaustive environmental integration of the entire area was achieved through the use of live fences, staking, tree or shrub planting, hydroseeding, etc.
Another of the measures implemented by Ferrovial Construction was to place nesting boxes for bats to encourage the presence of these insectivores in a riverside area upstream of the construction site. This proposal was completed with an informative talk for children about the benefits of bats as natural 'insecticides' and their contribution to the faunal and ecological diversity of the area, showing the nest boxes in situ and explaining how they work.
According to Álvaro Pozueta, Quality and Environment Advisor, "the Toloto stream adaptation project has been a work with interesting environmental implications, which thanks to the environmental awareness of Xabier Aguiar, Arturo Ogara, Koldo Zuloaga, Javier Pato, Eduardo Fonseca y Fernando Beltranilla has been solved in an impeccable way, obtaining the satisfaction of both the client (URA) and the City Council of Elorrio. I can only congratulate the whole team!"