The BFK tunnel boring machine (TBM) Phyllis has completed Crossrail's first train tunnel, 17 months after commencing her 4.2 mile (6.8 km) journey from Royal Oak in west London to Farringdon in central London.
On Tuesday 8th October the BFK (BAM, Ferrovial and Kier Joint Venture) tunnelling teams celebrated that Phyllis became not only the first TBM to start the Crossrail journey under London but the first to finish as well.
BFK's second TBM and Phyllis' sister machine, Ada, is in the Holborn area and is due to complete tunnelling during winter 2013.
Phyllis, Ada and five other Crossrail TBMs have collectively passed the 13 mile mark (21.7 km) of their 26 mile marathon to build major new train tunnels under London as part of works to deliver the most significant addition to London's transport in a generation.
Ada and her four counterparts are all due to finish over the next year.
During the coming weeks, Phyllis will be dismantled and her 130 metre long trailer system will be removed from the tunnel via the recently completed Fisher Street shaft.
Andy Mitchell, Crossrail Programme Director said:
"Crossrail's construction continues to move ahead at a significant pace. Crossrail has not only completed the first Crossrail tunnel under London but has reached the half-way point for our tunnelling machines with a phenomenal 13 miles of tunnels constructed to-date. A further six tunnelling machines are currently hard at work constructing over 100 metres of new tunnel each day with major tunnelling due to complete next year."
"This is a momentous occasion for the JV and everyone involved on the project. We are so proud to have been the first team to start this journey, and now we also get to celebrate the first tunnel completion for the project. They are two very exciting milestones for us and I'd like to congratulate the team and thank them for their endless commitment to this goal."
Phyllis and Ada are the only TBMs in the project who have had to continuously mine their way under historical London landmarks including the Sloane Square and Mayfair areas. Their success in this unique environment is testament to the world class specialists working in the BFK team.
Phyllis herself needed the Victorian construct, Lord Hill's Bridge, to be raised for to begin her Crossrail journey which was later followed by the Paddington Throat – the area where all railway lines merge as they approach the hub station. Her arrival at Paddington coincided with the beginning of the 2012 Olympic Games period. Where other works were embargoed, Phyllis was allowed to continue on under the throat without interruption due to BFK's rigorous settlement monitoring and control system. She later continued to pass over the live operating tunnels of the Northern Line at Tottenham Court Road with a clearance of just 0.8 metres.
When it opens in 2018, Crossrail will transform train travel across London and the south east, delivering faster journey times, boosting London's rail capacity by 10% and bringing an additional 1.5 million people closer to the capital's business centres. Over 200 million passengers will travel on Crossrail each year. Crossrail is also asking Londoners to submit ideas for items to be included in a time capsule at the Farringdon site to mark the first completed tunnel.
Those with the winning suggestions will have the opportunity to be among the first to visit a completed tunnel later this year.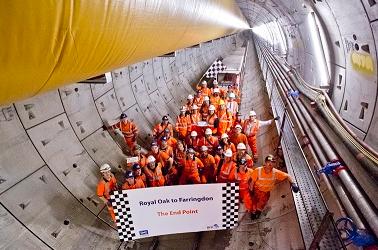 Editors Note
BFK
BFK is a joint venture comprising three of the world's leading tunnelling, civil engineering and construction companies: BAM, Ferrovial and Kier. BFK is constructing two railway tunnels that will run for 6.8 km and 6.4 km between the Royal Oak Portal and the new Farringdon Crossrail station and is also building the station tunnel caverns at Bond Street, Tottenham Court Road and Farringdon.
Crossrail
Crossrail's time capsule competition is open to all ages. Winners will be offered the opportunity to visit a Crossrail worksite.
Crossrail's eight tunnelling machines will build ten different tunnels to collectively deliver 26 miles of new tunnels under London. Tunnelling machine has completed her tunnel drive and will be dismantled leaving just the front "can" in situ. A further six tunnel boring machine (TBM) are still working under London and the final TBM, Ellie, will launch this winter. The naming of TBMs after women is a long-held tunnelling tradition. Tunnelling machines Ada and Phyllis were named after early computer scientist Ada Lovelace and Phyllis Pearsall who created the London A-Z. Each tunnelling machine is 150 metres long and weigh 1,000 tonnes. A gang of 20 people work in the tunnel one each shift to keep each machine operating.
About Crossrail
The total funding envelope available to deliver Crossrail is £14.8bn. The Crossrail route will pass through 38 stations and run from Maidenhead and Heathrow in the west, through new twin-bore 21 km (13 miles) tunnels to Shenfield and Abbey Wood in the east. When Crossrail opens it will increase London's rail-based transport network capacity by 10%, supporting regeneration and cutting journey times across the city. Crossrail services are due to commence through central London in 2018. Crossrail is being delivered by Crossrail Limited (CRL). CRL is a wholly owned subsidiary of Transport for London. Crossrail is jointly sponsored by the Department for Transport and Transport for London.