On December 19, excavation reached the end of the tunnel connecting the Rodalies R2 line with Terminal 1 at the Barcelona-El Prat Airport as part of the Structural Project, "Access to the New Terminal at the Barcelona Airport. Barcelona's commuter rail system" undertaken Ferrovial Agroman.
Among those who attended the event were Sonia Corrochano, Director of the Barcelona Airport (Aena); Montserrat García, Sub-delegate of the Catalonian Administration; Juan Antonio Hermoso, Deputy Director of Construction IV at Adif; Ismael Romero, Project Manager (Ineco); and Juan Manuel Martínez, Contract Manager (Technical Supervision SEITT). Miguel Ángel Valencia, Manager, and Francesc Medall, Site Manager, along with others, attended on behalf of Ferrovial Agroman.
The 3,048-meter-long tunnel used "Gala," the tunneling machine measuring 10.6 m in diameter that went through Terminal 2 as well as the Airport's Main Runway, the two points most notable for their uniqueness. Its dismantling is currently underway, and it will resume working on the site of the future Multimodal Station at Terminal 2.
Project description
The project will connect the Barcelona-El Prat Airport by railway at a total length of 4,495 m, 3,385 m of which are underground, and of those, 3,048 m are dug with the tunneling machine. The tunnel is excavated with an EPB ( Pressure Balanced) tunneling machine with a shield on front, which has an excavation diameter of 10.6 m and a 9.6 m interior diameter.
Excavation is underway in the municipal districts of El Prat and Sant Boi, and the new access will have stations at both terminals of the Barcelona Airport. The first stop is located at the future T2 Multimodal Hub, as the current connecting gateway between the current Commuter Rail Station and T2 will be gone. The route will then run under the airfield to connect with the New Terminal.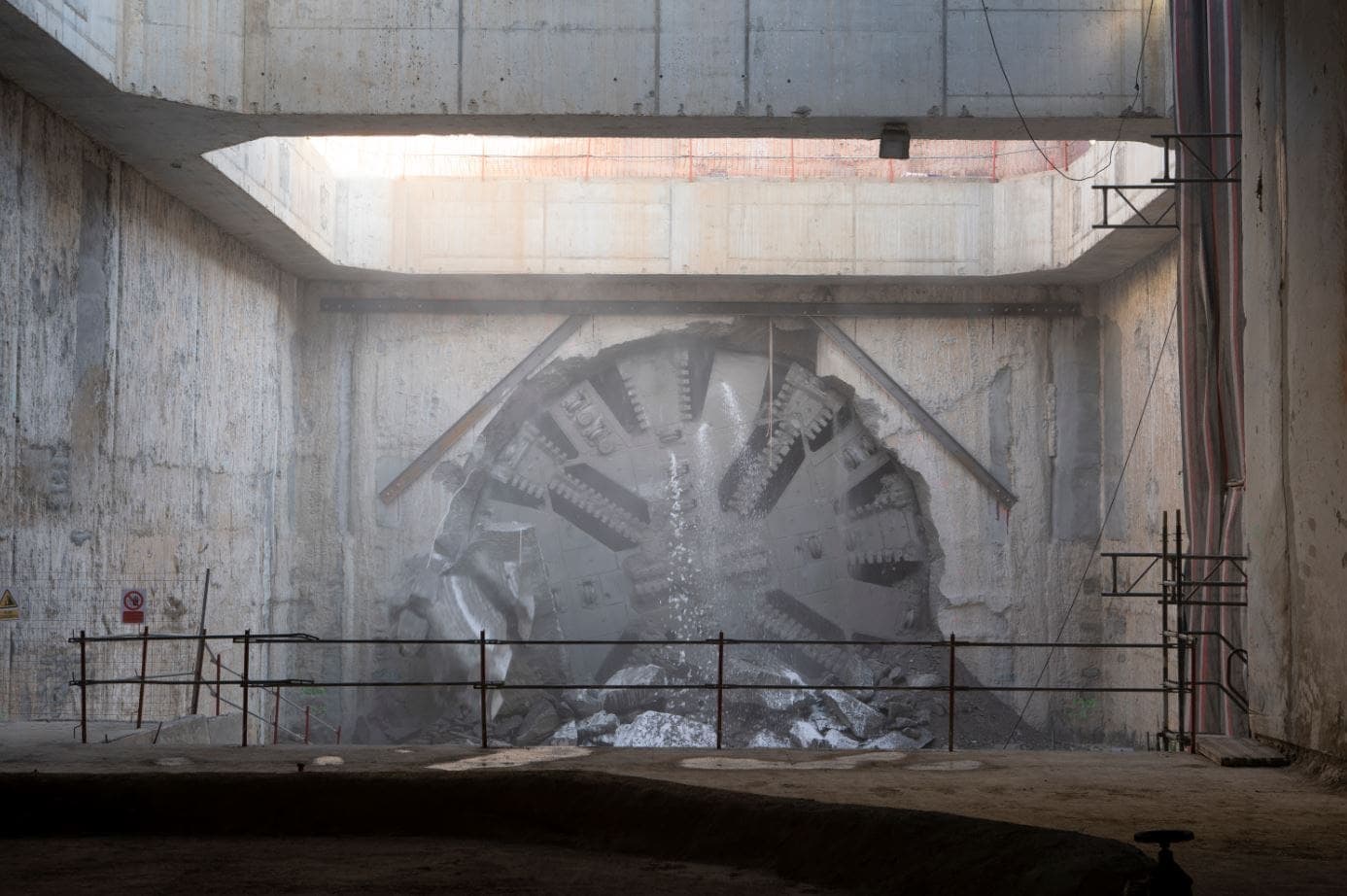 Current situation
As of today, the first kilometer of the tunnel, which runs from where the line connects with the commuter rail system to the opening to the tunnel shaft, is totally finished, since the sheet piling, walls, and slabs for the section that will run in open air have been done; as well as the screens, the jet-grouting, and the cut-and cover tunnel's upper and lower slabs. Excavation on this stretch began in September of 2017 with the system for the tunneling machine and the necessary additions for excavation (conveyor belts, ditches, building voussoirs, etc).
Excavation of the area that will be the future commuter rail station at Terminal 2 is currently underway, with the screens, jet-grouting, and upper and middle slabs already done.