This is the seventh consecutive year Ferrovial will participate in this event
South Summit is the leading platform for innovation worldwide. It brings startups and companies together to create business opportunities
For the seventh consecutive year, Ferrovial is participating in South's Summit Innovation and Entrepreneurship meeting, which will be held from October 6 to 8, 2020. Given the current health situation, the event will take place via a new streaming format. It will allow participants to discuss the different key issues of this year's South Summit. With this new online, omnichannel format, South Summit plans on making the event more dynamic and global for its audience.
This year's agenda revolves around nine main themes. Each will be made into a television program with its own content: Health & Wellbeing, Education, the Future of Work, Energy & Sustainability, Mobility & Infrastructure, Connectivity & Data, Fintech & Insurtech, Consumer Trends, and Travel & Tourism. In addition to these nine thematic programs, three prime time programs with special content will be broadcast in the afternoon.
Ferrovial is leading and sponsoring the Mobility & Infrastructure topic this year. The company will once again have a strong presence in this year's agenda:
The company's CIIO, Dimitris Bountolos, will be speaking at prime time on day 7 about the future of transportation and how innovation impacts the infrastructure sector.
Director of Innovation and Digital Strategy Rafael Fernández will talk about the future of urban aerial mobility and hyperloops in the Mobility & Infrastructure part of day 7.
Nicolás Rubio, the Operations Director at Cintra (a Ferrovial subsidiary), will share his vision of the arrival of connected and self-driving vehicles, as well as the impact it will have on the future of our infrastructure in the Mobility & Infrastructure program on day 7.
The Director of Sustainability, Valentín Alfaya, will present Ferrovial's climate strategy and discuss the role that private companies play in the fight against climate change in the Energy & Sustainability program, also on day 7.
During his talk on the Future of Work on day 6, Global Corporate Health and Safety Director Benjamin Legg will discuss the importance of workplace safety and how innovation plays a key role in this.
Catherine Phillips, who is on the Innovation team at Heathrow Airport, will talk about how innovation can help reduce the impact of COVID-19 at airports and the future of airports in the Travel & Tourism section of day 8.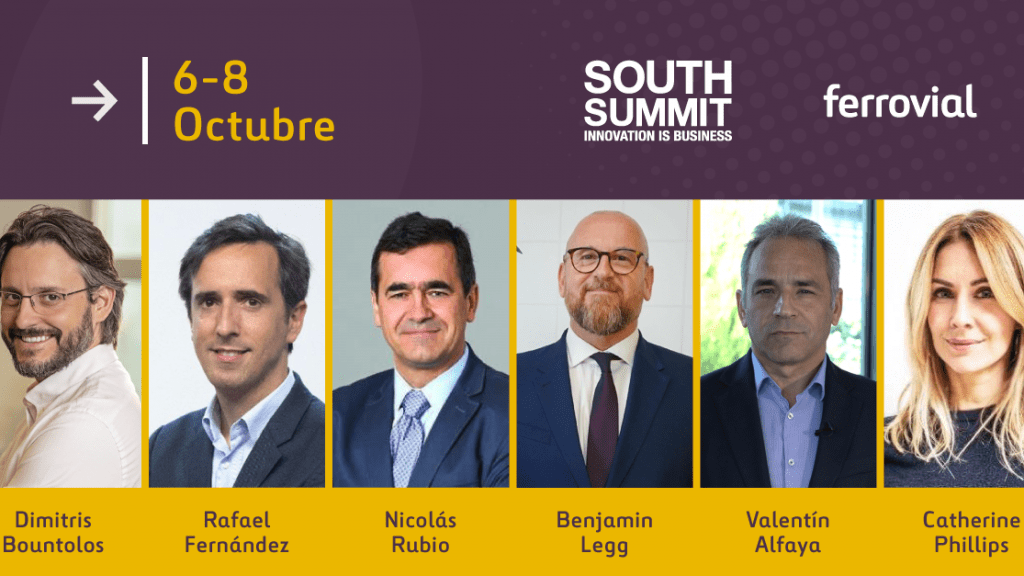 To access all of the content from this year's South Summit (video streaming, Marketplace with virtual stands for companies and startups, a networking tool, and much more), register here and get your free ticket. Once you've registered and logged on to the South Summit platform, you'll be able to check out all of the broadcasts from different programs here.
For more information about the event, visit South Summit's website.