The Ferrovial team has worked tirelessly over the last few hours to reduce the dramatic impact of torrential rains in the Navarrese town of Tafalla. 
Ferrovial Services, a concessionaire for cleaning services in the town, is working side by side with the City Council to restore normal conditions to the area as soon as possible after serious damage caused by torrential rains of unprecedented scale that led to sudden flooding of the Cidacos River, rising from 11 centimeters to 4.23 meters in just four hours this Monday. 
Faced with the aftermath of the torrential current from the Cidacos river, Ferrovial Services assisted the City Council and all of the neighbors by cleaning up mud and rubble from the streets of Tafalla, while also working with firefighters, city and regional police, and the Civil Guard. 
The scale of the situation has led the Tafalla City Council plenary to call an emergency meeting to petition the Government to declare a state of emergency. The highest amounts of rainfall, over 150 liters per square meter at some points between five and nine o'clock at night, were concentrated in the town. It is the strongest, most intense storm of the last 40 years. In four hours, it rained three times the average rainfall for the month of July.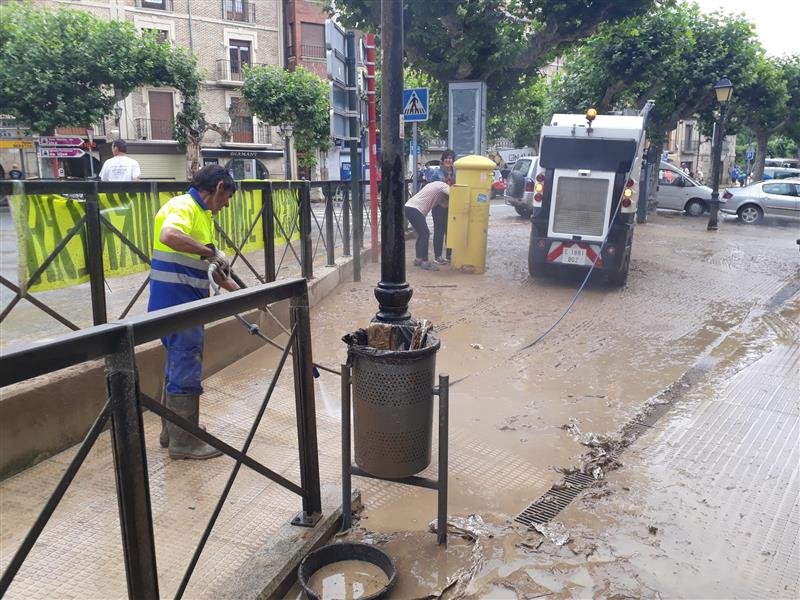 The most significant damage occurred in the northern part of the town, where shops, buildings, and the pre-school were severely damaged. The flood especially affected Calle Espronceda, where the current carried away cars and seeped into garages, doorways, and businesses. 
Ferrovial Services is hoping to restore normal conditions in the streets of Tafalla as soon as possible, and to do so, it has put all the human and material resources it can at the service of all of its neighbors.