Ferrovial Servicios, UnLtd Spain, and Camilo José Cela University present 'Gamechangers & Cities,' the first support program for ventures with a social impact in sustainable cities seeking innovative startups with social and/or environmental impact that work in the fields of mobility, energy, habitat, resources, consumption, and waste, as well as plurality and equity.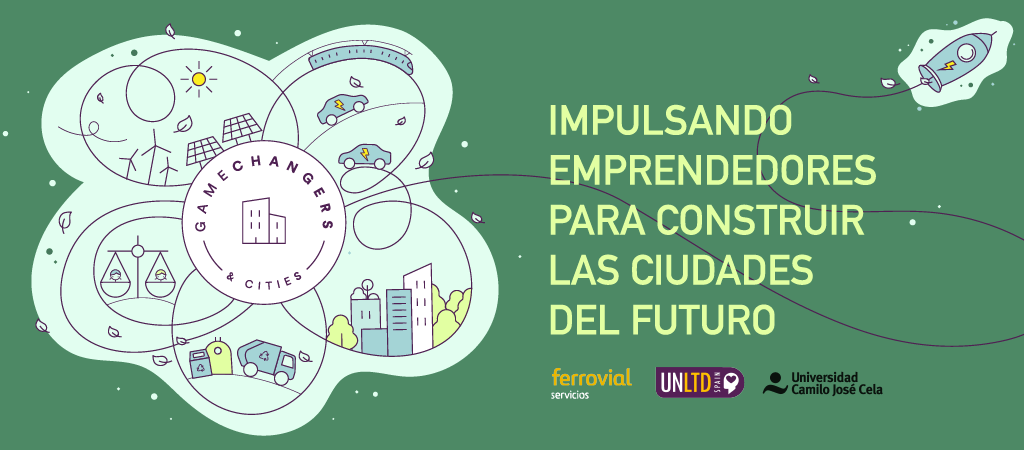 The program's aim is to promote the United Nations's Sustainable Development Goal 11, 'Sustainable Cities and Communities,' by supporting projects that offer solutions for transforming cities into places that are safer, more inclusive, resilient, sustainable, and better prepared to face the enormous challenges of the present and the future.
The entrepreneurs chosen will receive mentoring from expert professionals at Ferrovial Services, and they will have access to opportunities for collaborating with the company, a leader in providing urban and environmental services. Selected participants and entrepreneurs will also be connected with the pioneering 'Degree in Urban Management' at Camilo José Cela University, receiving advising from academic experts and sharing the spirit of innovation with students.
This initiative is part of the Strategic Plan for Corporate Responsibility and Social Innovation, as a key lever for developing innovative proposals of a social character to apply to different services that the company offers to its clients. At the same time, it contributes to the continued strengthening of the culture of innovation and fostering employee's awareness toward sustainable management of our contracts.
How to participate
To participate, startups will have to sign up by filling out a form on the program's web page, specifying the project's social motivation and what stage the startup that wishes to participate is at, that is, if it is already an established company or a growing company. Startups whose teams are composed of individuals of any nationality will be able to sign up, as long as it is legally registered in Spain, regardless of in which region in national territory it operates. The registration period ends December 19, 2018. Once the finalists are announced, the selected projects will have to propose solutions for transforming cities, making them more sustainable, prepared, and inclusive in the face of the challenges of the present and the future.
About UnLtd Spain
UnLtd Spain, a privately financed foundation, identifies startups with potential for creating social change and supports them so that they are successful. It connects entrepreneurs with large organizations so that they receive the support needed to create the desired social impact, while at the same time spreading the projects' spirit of innovation at the organizations.
For more information, visit the following link.