Airport was first in UK to introduce electric buses to its operations in 2019.
Glasgow Airport is currently trialling a full-electric bus to transfer passengers between the terminal and aircraft parked at remote stands.
The new eCOBUS, built on a Mercedes Benz chassis with aluminium body to ensure long life in Scottish weather conditions, is currently on trial at Glasgow and has been used to transfer delegates and support staff during the COP26 summit.
The trial is one of a number of projects being undertaken as part of the sustainability strategy launched by AGS Airports Ltd – owners of Glasgow, Aberdeen and Southampton airports – to decarbonise the Group's operations and infrastructure by the mid-2030s.
In 2019 Glasgow became the first UK airport to introduce zero-emission electric buses to its operations by swapping out diesel-power vehicles on its long-stay car park route with a fleet of Alexander Dennis Limited (ADL) BYD ADL Enviro200EV buses.
Kirsty Webster, Glasgow Airport's Sustainability Manager, said: "State-of-the-art electric vehicles such as the eCOBUS and the zero-emission buses we already operate within the airport play an important role in supporting our continued commitment to create a more sustainable business and contribute significantly to further reducing carbon emissions locally at the airport.
"The environmental benefits and considerable cost reductions associated with the introduction of electric vehicles are very attractive, so we are keen to see how the eCOBUS operates during this trial period.
"By moving to a full-electric bus operation to our car parks, we reduced the carbon emissions associated from 143 tonnes per year to zero, and this significant reduction is further supported by the fact that the airport's electricity is also supplied via renewable energy."
This unique vehicle includes state-of-the-art features to maximize safety, comfort, performance, and sustainability. The lithium batteries are located on the roof to allow for maximum capacity inside the bus and require no additional costly temperature management.
Batteries can be quick charged in less than 50 minutes for the vehicle's near-silent operation, meaning passengers are transferred between the terminal and the aircraft in a very comfortable and efficient way.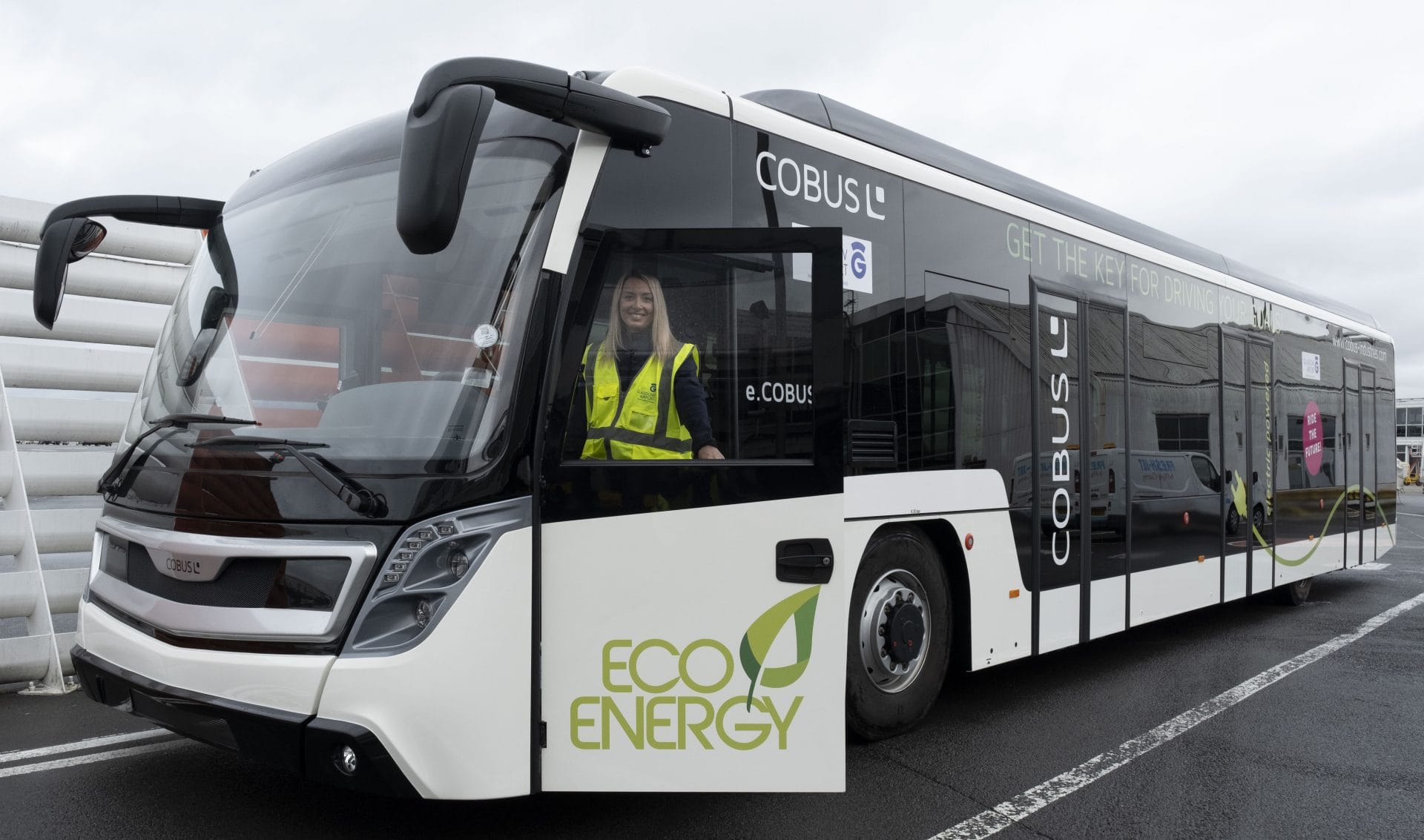 Patricia Vasconcelos, chief executive of COBUS Industries GmbH, Germany, said: "We are all living in a fast moving, noisy and frantically busy environment and are facing enormous challenges in all areas of our private and professional lives.
"One of the busiest places for both business and private trips are the airports, conglomerates of different cultures and personal needs. Today's challenges in terms of sustainability and environmentally-friendly technologies are intrinsic goals for airport authorities, airlines, and ground handling companies.
"The team of COBUS Industries, manufacturer of the COBUS airfield bus, is following this movement with large ambitions and high motivation to offer passengers the best possible comfort in our COBUS airfield bus and help our customers to drive their ambitious goals towards environmental protection, sustainability, and future-oriented technologies on airports.
"We are therefore very pleased and proud that our valuable customer Glasgow Airport is now operating our fully-electric COBUS and to continue our partnership."
As part of our Sustainability Strategy, all three AGS airports achieved carbon neutrality status for the emissions under the Group's control in 2020.
Find more information here.