Heathrow will kick-start a new trial turning unrecyclable plastic passenger waste – including food packaging and plastic film – into airport furniture, uniforms and lower-emission jet fuel by 2025. 
In a UK first, the airport will test a new recycling unit that will help solve the issue of waste from terminals and aircraft cabins for which there are limited commercial recycling options.
Currently at Heathrow, close to 50% of airport and aircraft cabin waste is recycled. This is comparable with most local authorities despite the strict regulations in place for cabin waste from international flights, which mean most of that waste must be sent for incineration or landfilled.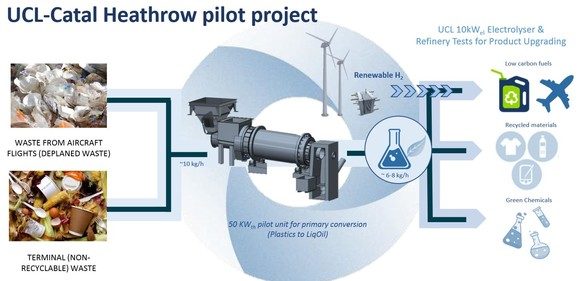 The pilot plant, developed by Heathrow's Innovation Prize winners Sheffield-based company Catal and UCL Dr Massimiliano Materazzi, has the potential to save up to 5,000 tonnes waste from incineration by turning it into its original oil state for recycling every year. If successful, it will enable Heathrow to recycle all plastic waste from the airport where regulations permit. This technology could also help to salvage aircraft cabin waste should government review and adopt a more risk-based approach to regulations for waste from international flights which currently mean tens of thousands of tonnes of recyclable products across UK airports that have to be sent for incineration.
Once the waste is refined using this new technology, the resulting oil will be collected and processed in a separate facility which makes use of renewable hydrogen to upgrade the oil into new generation, low-carbon products such as furniture and uniforms. It is estimated that between 5 and 8 kg of plastics oil will be produced for every 10 kg of waste handled each hour. Researchers say it's also possible that this oil can be transformed into Jet A1-type sustainable fuel and will investigate further during the trial.
This autumn, Heathrow will help to kick start the R&D unit by awarding researchers a cash boost of £30,000. By 2025, Catal and UCL plan to roll out commercial units to other airports.
To boost aviation recycling even further, Heathrow is calling on the government to consider changes to increase recycling of waste from aircraft cabins. Much more waste could be recycled by adopting a risk-based approach to regulation of international catering waste based on recommendations from IATA, the global airline trade association. This would help airlines avoid sending recyclable waste to incineration.
"People are rightly concerned about plastic waste. Tens of thousands of tonnes of it are produced by UK air passengers every year which is something we must tackle. That's why we're helping to fund this R&D project which could make Heathrow the first UK airport to be able to recycle all plastic waste generated at the airport. Coupled with new regulations from Government on processing cabin waste, it would create a step-change in how airports across the UK manage plastic waste – giving passengers the confidence to travel knowing their plastics are sorted"
Speaking on behalf of the winning team, Dr Materazzi from UCL, said:
"Currently airline passengers alone generate approximately 6 million metric tonnes of waste each year, most of which goes to landfill or incineration because it cannot be appropriately treated and then recycled. Our concept has the potential to turn this problem on its head. We are excited to partner with the UK's biggest airport and look forward to making a real sustainable impact across the aviation industry and beyond."
The Innovation Prize forms part of Heathrow's Centre of Excellence for Sustainability and the airport's sustainability strategy – Heathrow 2.0. The Centre's mission is to facilitate the research and development of innovative solutions to accelerate the era of sustainable flight. Currently the Centre's focus is on solving some of its initial innovation challenges, covering topics as wide ranging as climate change, circular economy and community wellbeing.
Entries were invited to focus on three areas as part of Heathrow's Centre of Excellence for Sustainability work on accelerating the arrival of sustainable flight: travelling to the airport carbon-free; getting ready for sustainable propulsion; and negative emissions at or near the airport.