KUIKO PRO is the first app that allows professionals in the sector to manage the remodeling, cleaning, and maintenance services requested by their clients.
KUIKO, Ferrovial Services' digital platform for finding, choosing, and hiring local businesses in remodeling, cleaning, and maintenance services, has launched its own mobile app for professionals in the sector.
KUIKO PRO, KUIKO's new app, is already available for free on Google Play. This tool performs two functions. On one hand, it facilitates day-to-day operations for professionals registered with KUIKO: whatever service they provide on the Marketplace (remodeling, cleaning, pest control, carpentry, glassware, painting, electricity, heating and air conditioning, pipework, plumbing, awnings, and blinds), they can manage the service requested through the platform at no additional cost. On the other hand, the app provides customers with a quicker, more efficient, transparent response from the company or freelance professional that they have chosen to carry out their remodeling, cleaning or maintenance.
KUIKO PRO optimizes work for professionals in remodeling, cleaning, and maintenance services.
The new KUIKO app is specifically developed so that professionals in the facility management sector can digitally manage the services assigned to their business. They will be able to receive notifications whenever they have new services to perform, browse a list of all the services they are in charge of, and see specific details about the work that customers have requested, all through an intuitive system.
In addition, with KUIKO PRO they will be able to track all of the services assigned to them and request changes from the client whenever needed – for example, if they had to add or remove materials, expand the scope of the service, or modify the number of hours needed to get the job done. All so that the work done is charged to the customer fairly, and always with their prior agreement.
Furthermore, the app will allow professionals to get to their customers' locations more easily with a link to the address where the service is to be provided through Google Maps. With one click, they will be able to know where their next job is and the best route for getting there.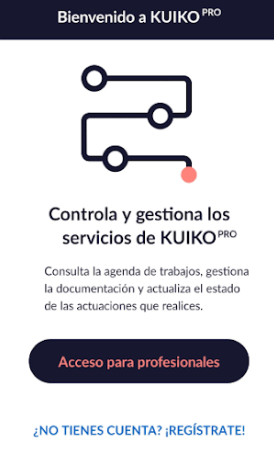 An app to give clients a better response: quicker and more transparent
Through KUIKO PRO, professionals will be able to upload photos of completed services so that the client can confirm that the job has been done correctly without even having to visit the location itself, and with an online paper trail that they can consult whenever needed. Similarly, the customer will be able to find out what stage the service agreed on is at more quickly and with greater transparency.
Once the service is completed, confirmed, and paid for, with KUIKO PRO professionals will be able to provide a notification that they have received the payment and prevent multiple charges. One more way to make sure that everything works properly and that clients are more satisfied.
KUIKO, with digital transformation at the service of SMEs
This new app reflects KUIKO's commitment to digitization in operating SMEs in order to improve their efficiency and promote the application of new technologies as an engine for development in the fabric of local business.
KUIKO PRO allows local companies to enjoy the benefits of the digital transformation without having to make an economic investment with a tool that guides them intuitively step by step and improves their daily operations by increasing their productivity.
"We work to offer new tools that improve day-to-day operations for professionals and clients. With this application, we are particularly facilitating the daily operational processes of professionals, allowing them to optimize monitoring their work in a quick, easy way from anywhere at any time. Clients will also enjoy a more efficient, transparent service"
About KUIKO
KUIKO is Ferrovial Services' new digital platform for finding, choosing, and hiring the best authorized local professionals in the remodeling, cleaning, and maintenance sectors in the region. In addition, KUIKO started out as a key partner for suppliers in the sector, helping them boost their client base while also guaranteeing payments and offering digital tools that make day-to-day operations smoother.