The event is organized by five of the world's leading construction companies: Ferrovial, CEMEX Ventures, Hilti, Leonard VINCI, and NOVA by Saint-Gobain. The deadline to participate is July 26.
Here you can find the rules for the competition.
Construction Startup Competition 2020 is designed for startups and entrepreneurs from around the world to be able to innovate in the construction industry.
This fourth edition, with the motto You are the missing piece, aims to recognize and promote startups who want to lead the transformation of the construction industry through innovation.
Ferrovial is joining the initiative created by CEMEX Ventures (four chapters ago) along with Hilti, Leonard VINCI, and NOVA by Saint-Gobain. These companies, which are leaders in the construction sector, have a global presence that will assist startups from different parts of the world to take part in the competition and thus draw on the possibility of growing and expanding their businesses to new markets.
The three previous chapters helped create an ecosystem of more than 1,000 companies from 80 different countries that work in construction.
Participants will be firsthand witnesses to this industry's challenges, in addition to getting acquainted with individuals, companies, contacts in the sector, and the possibility of implementing their proposals and solutions at any of the five organizing companies.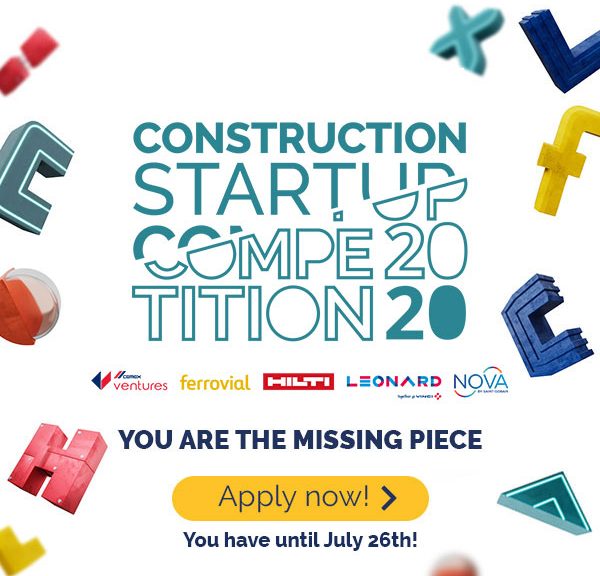 Winners will be chosen from among the industry's most valuable areas of opportunity:
– Smart buildings and cities.
– Optimization of supply chain management.
– Construction with innovative materials or methods.
– Optimization of productivity, efficiency, and quality in daily project management.
Recognizing the winners will mean ample opportunities in the industry, which may entail workshops, pilot projects, and even investments.
Furthermore, finalists will be invited to Chicago (US) to present their solutions to a jury composed of world leaders in innovation, investment, and construction at a leading event for the sector. This event will take place there on December 2 and 3, 2020.