The Grand Parkway Infrastructure (GPI) team has completed more than 200 acres of clearing and grubbing primarily East of US 59/69, which helps in keeping the construction momentum moving while Right of Way acquisition and design packages progress.
Construction work on SH 99 Grand Parkway Segments H, I-1 & I-2 began construction last fall and is moving full steam ahead. As you travel through these areas, there will be some obvious and not so obvious construction work in effect.
In Segment H, crews have begun the construction of drill shaft foundations, bridge substructures, retaining walls, and reinforced concrete pipe drainage near US 59/69.  Roadway embankment work has moved more than 100,000 cubic yards of dirt to date.  Additionally, bridge work within the US 59/69 interchange is progressing with over 5,000 cubic yards poured to date.  Drainage, roadway embankment, mechanically stabilizing earth retaining walls, and bridge substructure operations are expected to begin between FM 1010 / Plum Grove and Luce Bayou in Spring 2019.
On the southern end of the project, the first half of Segment I-1 construction work begins in May of 2019 with the embankment process which requires trucking in earthen material that is placed and compacted to raise the grade of the new roads, while the team has completed already 4,000 linear feet of drilled shafts and bridge substructure work at multiple intersections between IH 10 and FM 1405. Roadway embankment work has recently begun close to FM1405 and will progress North towards IH 10.
On the second portion of Segments I-1 and I-2 a new eastbound frontage road is currently underway between Cedar Bayou and FM 1405. MSE wall construction will commence later this month at the FM 1405 intersection. Substructure for 10 individual bridges have begun South of IH-10 including a single bridge that will span over IH-10. Roadway work at the Wyoming Intersection is underway; this work will kick off a complex phasing plan from Wyoming Street to Lee Drive.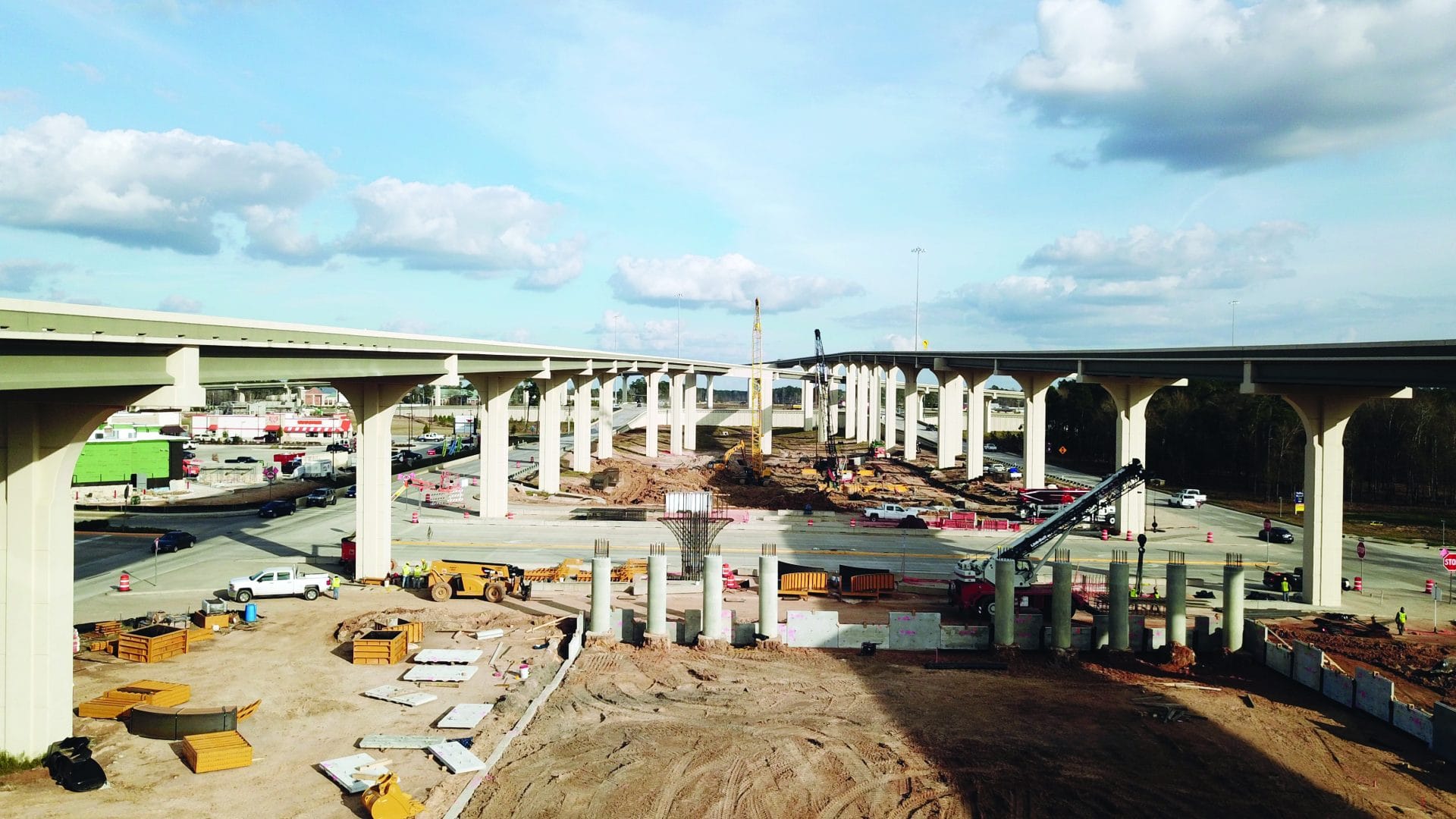 SH 99 Grand Parkway is a 184-mile circumferential highway, divided in 11 segments and crossing seven counties around the Greater Houston. GPI, a joint venture between Ferrovial Agroman US, Webber and Granite Construction were awarded 43.6 miles of this loop in 2017. The SH 99 Grand Parkway project was conceived in the 1960s to improve mobility, reduce congestion, and respond to demographic and economic growth around the greater Houston area.