The Ferrovial Agroman Values Awards were announced at the annual festive event, which welcomed over 300 guests from all UK & Ireland operations.
Friday 8 December was a great opportunity for colleagues to celebrate the festive occasion, the teams and their achievements throughout the year and to present the Ferrovial Agroman Values Awards 2017. We wish all nominees and winners huge congratulations for being shortlisted and for your great efforts and professionalism. The judges at the assessment stages before the event were unanimous in that it was extremely hard to pick the winners in each category as all of you have proven you are a great representation of Respect, Innovation, Collaboration, Excellence and Integrity. This includes the graduates nominated for both the Best Graduate Newcomer and the Graduate of the Year.
For all categories, except the Spirit Award, senior managers from all projects nominated their preferred candidates, who were then asked to deliver a presentation before a panel of judges explaining why they considered they deserved the awards. They also had to undergo a 10-minute Questions & Answers session. The judges then made their decision and chose the winners.
For the Spirit Award, the process was different. Everyone across all projects was asked to nominate colleagues that they considered best represented our combined company values: Innovation, Collaboration, Integrity, Respect, Excellence. An independent panel of judges then had the unenviable task of creating a shortlist from all of the submissions. This shortlist was then presented across projects for everyone to choose their 3 preferred candidates by allocating them 3, 2 and 1 points respectively in order of preference. The person with the highest score was Gemma Teale, Agent, from Heathrow Q6.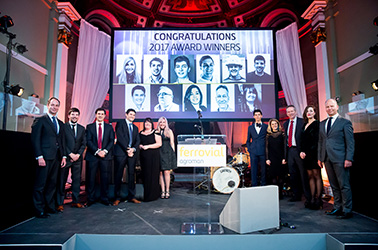 Congratulations to the winners on the night:
Best Graduate Newcomer: Nour Kasem, Civil Engineer, Northern Line Extension.
Graduates of the Year: Graeme Dobbin, Graduate Engineer, Heathrow Q6; and Chloe Legg, Consents Coordinator, Tideway Central.
Innovation: Alejandro Vazquez, Tunnel Manager, Northern Line Extension.
Respect: Cristina Ozores, Environmental Advisor, Northern Line Extension.
Collaboration: Patrick Dennehy, Package Manager, Crossrail Farringdon Station.
Integrity: M&E Manager, Heathrow Q6.
Excellence: Alan Harris, Supply Chain Manager, HS2 Enabling Works.
Spirit Award: Gemma Teale, Agent, Heathrow Q6.
Special Mention: Andres Cabrera, Senior Project Manager, HS2 Enabling Works.
To everyone else, thank you very much for attending and for your enthusiasm.