Once assembled, Millicent and Ursula will tunnel 5km and 7.6km respectively to build London's super sewer.
The Tideway Central team in London has welcomed the first shipment of two tunnel boring machines (TBMs) in preparation for the start of tunnelling later this year. The TBMs, named Millicent and Ursula, were built in Le Creusot (France) and transported along the Thames, in line with Tideway's commitment to transport over 90 per cent of materials by river which will reduce the number of road vehicle journeys needed to build the tunnel. To make the journey from France the machines had to be dismantled and shipped in several parts to be reassembled at Tideway's Kirtling Street site in Battersea, close to Battersea Power Station. Weighing in at more than 1300tn each, Millicent and Ursula are the project's largest TBMs. When fully assembled, they will be 8.8m in diameter and more than 100m long. It is fitting that the team is delivering Millicent during the centenary of the right to vote for women in 1918.
Following the tradition, the TBMs were given female names. In 2017, 24,000 votes were cast in a public poll to name all the TBMs to be used across the Thames Tideway project. Reflecting the team's commitment to gender parity, all the short-listed options were influential women, who had strong links to the drive site boroughs affected by the team's works. Millicent was named after Dame Millicent Fawcett, an English suffragist and political leader, who is soon to be the first woman to be commemorated with a statue erected at Parliament Square. Ursula was named after Audrey 'Ursula' Smith, a cyrobiologist at King's College Hospital, who pioneered the freezing of red blood cells for research.
Millicent will tunnel 5 kilometres from Kirtling Street to Carnwath Road in Fulham, while Ursula will tunnel 7.6km from Kirtling Street to Chambers Wharf in Bermondsey.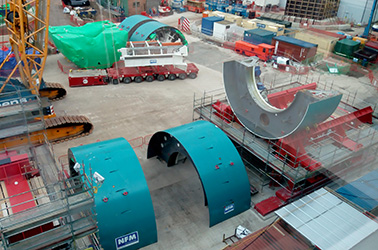 The Thames Tideway Tunnel is a major new sewer that will help tackle the problem of overflows from the London's Victorian sewers (millions of tonnes of raw sewage discharge into the River Thames) and will protect the river from increasing pollution for at least the next 100 years. Ferrovial Agroman is delivering the central section of the tunnel, alongside JV partner Laing O'Rourke.