The central section of the Thames Tideway Tunnel, being delivered by the Ferrovial Agroman UK and Laing O'Rourke joint venture, has marked a major milestone with the lowering of its first two Tunnel Boring Machines (TBMs) at the Kirtling Street site.
The Ferrovial Agroman and Laing O'Rourke joint venture, delivering the central section of London's new super sewer, has successfully lowered its first two Tunnel Boring Machines (TBMs) at its Kirtling Street site near Battersea Power Station in London. The two machines are the first two TBMs that have been lowered at the whole Tideway project. The TBM shaft is 53 metres deep and measures in at a diameter of 31 metres, equivalent to the dome of St Paul's Cathedral.
The lowering of both TBM cutterheads – which weigh in at over 850 tonnes each- was a lengthy and complex process and each took approximately eight hours to lower each TBM. To see a time-lapse video of the process, please click here.
Once lowered, the machines were placed into launch adits, otherwise known as starter tunnels, before work to complete the build of the TBMs, which will be over 100 metres long when fully built, begins in earnest.
When fully assembled, each TBM will weigh in at 1300 tonnes, and will be the project's largest, of six, tunnelling machines. The TBMs will remain underground for almost two years as they dig the tunnels.
Generally, most TBMs are buried in the ground when they finish their work, however, ours will be removed and sold on.
"This is a major milestone for the project and an impressive piece of work where Ferrovial Agroman has once again proven its capacity to deliver the most complex technical challenges. Huge congratulations to our teams on completing this stage of the project safely"
As with all Ferrovial Agroman projects, health and safety at Tideway Central is a non-negotiable value. The project reported zero major injuries for the third consecutive year and continued with Tideway's  award-winning Employer Project Induction Centre (EPIC) health and safety induction programme.
The TBMS, Millicent and Ursula, will be used to dig the central section of the Thames Tideway Tunnel, a 25km super sewer tunnel being constructed to tackle the problem of sewage pollution in the River Thames. This tunnel will also be deeper than almost all other tunnels in London, at a depth of 66m.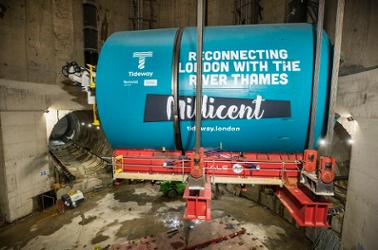 Millicent, named after Dame Millicent Fawcett, an English suffragist, will tunnel 5km from Kirtling Street to Carnwath Road in Fulham. While Ursula, named after Audrey 'Ursula' Smith, a British cryobiologist at King's College Hospital, will tunnel 7km from Kirtling Street to Chambers Wharf in Bermondsey.
The existing Victorian sewer network was designed by Sir Joseph Bazalgette over 150 years ago for a city of up to four million people. Today London's population is over 8 million and growing fast – the super sewer will provide the capacity that London needs for more than 100 years.