PLW Waterworks, LLC, part of the Webber group of companies, was selected for two major portions Northeast Water Purification Plant (NEWPP) plant project.
The work includes the construction of all Yard Piping and building a new High Service Pump Station. The contracts have a total value of $192 million and have been signed with the Houston Waterworks Team (HWT), a Joint Venture between CH2M and CDM Smith, that is leading the Design-Build process for this macro project with the City of Houston and its four partners.
PLW´s yard piping scope of work consists of connecting the 108-inches raw water mains from Lake Houston with the north part of the plant and continuing with all process and utility yard piping throughout the plant, connecting all facilities until reaching the distribution point of the 84-inches and 120-inches finished water pipes. In total, the project team will install more than 121,000 linear feet of pipes.
PLW will also build a new High Service Pump Station, including the electrical building and all electrical connections. This pump station is sized to achieve 320 million of gallons per day (MGD) of treated water production.
"The NEWPP project is currently the largest progressive Design-Build project of its kind in the United States[...]The project will expand the plant's capacity from 80 million gallons per day (MGD) to 400 MGD by 2024, helping the City of Houston and water authorities meet water demands and fulfill requirements by the Harris-Galveston and Fort Bend Subsidence Districts that restrict groundwater usage."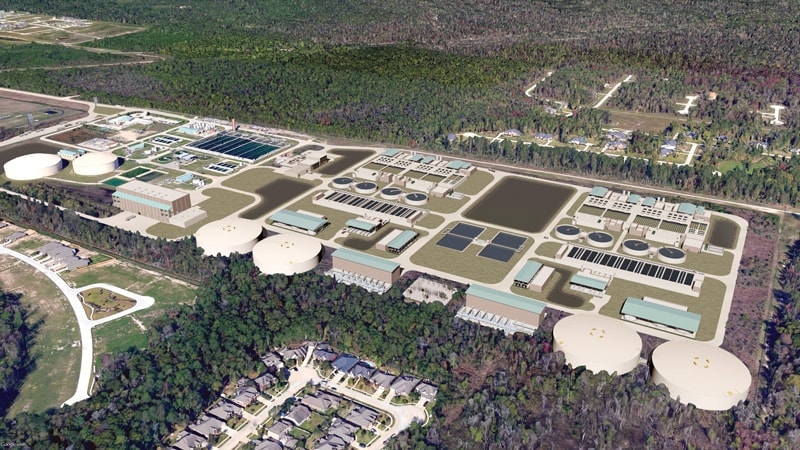 The estimated completion date for the project is 2024 and the plant will serve more than 2 million residents.
About PLW Waterworks, LLC
PLW Waterworks is an innovative waterworks infrastructure construction management and general contractor serving municipalities, water districts and water authorities across Texas since 1993. PLW Waterworks specializes in water purification, treatment, reuse and desalination systems using design-bid-build as well as alternative delivery methods to help bring fresh water to millions of Americans every day.
Headquartered in Houston, PLW Waterworks is part of the Webber group of companies. Founded in 1963, Webber is one of the largest general contractors in Texas and known for its award-winning projects in transportation, waterworks and commercial construction. Webber also specializes in environmentally friendly and recycled construction materials that eliminate the use of about 1.5 million cubic yards of landfill space annually while supplying contractors with quality recycled and locally sourced materials.
For more information on PLW Waterworks, please visit www.plwUS.com.