Ferrovial's professionals Rafael Fernández, Gonzalo Velasco, Andrés Camacho, Javier Lázaro and Dimitris Bountolos will take part in the event.

The

y

 will be speaking at the event's panel 

"Towards a Digital and Sustainable Mobility" on Wednesday, May 19

th

 at 

5

:30

 pm (GMT+2)

 
The Digital Enterprise Show 2021, a leading international event in Digital Business that brings together more than 300 companies and 450 keynote speakers, will take place from May 18-20th at IFEMA in Madrid.
One of the goals of the event is to encourage guest companies to accelerate their digital transformation processes. The event's agenda is divided into several blocks:
Industries: Retail, Platforms & Logistics, Banking, Smart City & Urban Mobility, Healthcare & Life Science, Industry 4.0, Tourism & Hospitality.
Startup competition: Innovation hub.
Technologies: Data Analytics & Science, IoT, VR/AR, Cybersecurity, 5G, Cloud, AI & Machine Learning.
Professional profiles: CEOs -Leadership Summit, CIO Summit, CMO's: Digital Marketing Planet, HR Summit, Spain Pyme Digital, Public Administrations Forum (Foro de Administraciones Públicas)
New Mobility
The Mobility panel will include 4 Ferrovial professionals who will discuss the profound transformation that urban mobility, cities and infrastructures are undergoing as a result of social and technological changes. The panel "Towards a Digital and Sustainable Mobility", will take place on Wednesday May 19th from 5:30 to 6:30 (GMT+2) and will be hosted by:
Rafael Fernández, Innovation & Processes Director at Ferrovial
Gonzalo Velasco, Business Plan and Innovation Director at Ferrovial Airports
Andrés Camacho, Director of the Mobility Unit at Ferrovial
Javier Lázaro Gaspar, Digital Hub Director at Ferrovial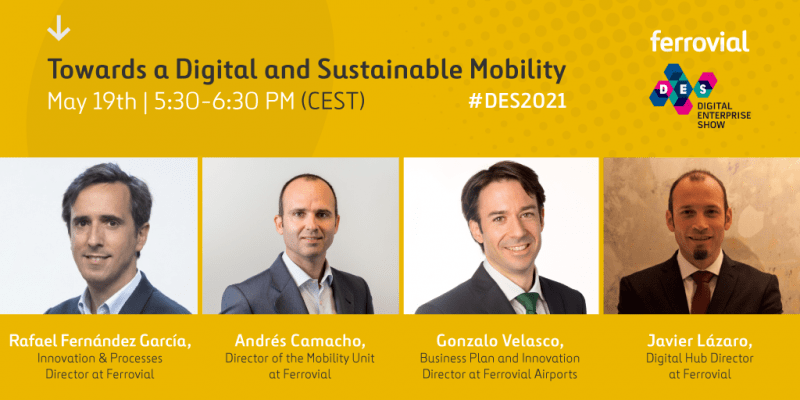 Ferrovial experts will discuss at this round table how the new mobility is supported by digital technologies and trends, making it even more connected, autonomous, shared and electric, and placing users at the center of everything.
For more information on the event, click here.