During the 10th Annual Northeast Tarrant Transportation Summit, which more than 600 members of the state government, legislators, and leaders in the business and transportation world from all over North Texas attended, the NTE highway was honored for its lasting collaboration with and contributions to improving mobility in the region.
Among the topics brought up at the summit, self-driving vehicles, public transportation, trains, aviation, infrastructure, and Managed Lanes were particularly noteworthy. Improvements to mobility over time and how transportation will continue to evolve in the future were also discussed.
At the round tables held during the workshop, participants talked about ways of "Connecting People in the 'First' and 'Last' Mile of Transportation;"; remodeling the Texas Central Railway high-speed train; and "Where will we get financing for our highways from in the next decade?"
The North Tarrant Express highway received special recognition from the County Commissioner, Gary Fickes, for having worked on the Managed Lanes project from the start. "In recognition and appreciation of your sponsorship for the past 10 years. Thank you for your enduring support and dedication to improving transportation in Tarrant County and across the great State of Texas!" he said at the awards ceremony.
In addition, Robert Hinkle, Director of Corporate Affairs in North Texas for Dallas Highways, moderated a conference called The Future of Air Travel for Goods and Passengers in North Texas. Participants talked about the new age of avionics technology, as well as how it will connect with ground communications and change the way we travel and get the products we buy.
To bring the summit to a close, Jeff Williams, the mayor of Arlington, and Ambassador Ron Kirk, the former mayor of Dallas and U.S. Trade Representative and a current member of the Texas Central Railway committee, had a discussion in which they praised the concept of Managed Lanes, with Kirk defining them as "a speed spot."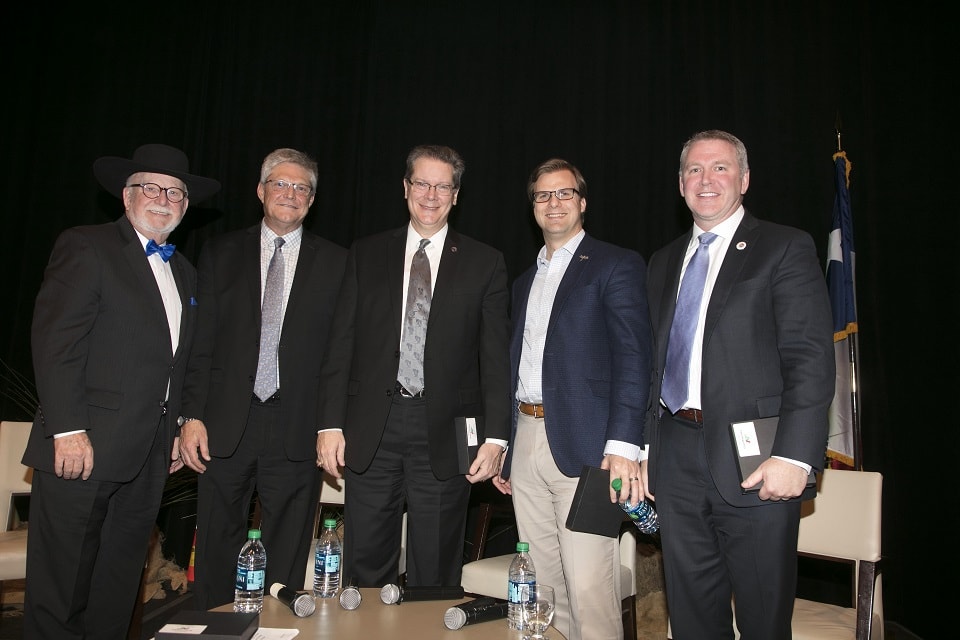 About Managed Lanes
The Managed Lanes project offers a solution for congested urban corridors that guarantees they will keep a minimum speed by charging tolls that vary depending on the amount of traffic. They are essentially lanes that are built alongside toll-free lanes that tend to get congested during peak hours, giving users the option to get in those lanes where traffic flow is guaranteed in exchange for being charged a toll, and they therefore lower traffic density in toll-free lanes at the same time.