The finalists at Build Up! presented their projects at the Launch Day before the Decision-Making Committee, which selected Roberto Tomás, a professor at the University of Alicante, as the winner of the initiative with his system to measure the stability of rocky areas by using remote sensors.
Tomás and his team will have the opportunity to test his solution by developing a pilot with Ferrovial Agroman, the company's business unit dedicated to public works and industrial construction.
This year's competition closed after receiving 33 proposals from 7 countries, including France, the United States, Holland, and Spain.
The third year of Build Up! has come to a close! Build Up! is Ferrovial's open innovation initiative that seeks out start-ups and national and international research groups with which to collaborate in developing solutions that improve upon their methods, products, or services. The 2019 competition has ended by celebrating Launch Day, the event where the winner is chosen from 5 finalists who had the chance to present their solutions to the Decision-Making Committee, composed of representatives from Ferrovial's Innovation Management and experts from Ferrovial Agroman, the business unit in charge of the challenge of this year.
The five finalists presented their projects, which were focused on addressing this year's challenge: how could we find out and characterize the terrain on which we build with greater precision to optimize designing, planning, and carrying out construction? The Decision-Making Committee looked at these proposals for advanced tools that supplied precise information on terrain behavior in real-time.
Roberto Tomás, a professor at the University of Alicante, was chosen as winner of the third year of Build Up! His project, ROCSA-3DPC, consists of a set of techniques for remote analysis that facilitate obtaining parameters on rocky masses, which allows evaluating the stability of the slopes and seeing their evolution over time. This system will help predict potential fractures in the ranges and prevent rockslides during construction on tunnels and roadways, for instance, thereby bettering safety for workers and residents.
With this recognition, Tomás and his team will have the chance to conceptualize, develop, and implement a pilot project with Ferrovial Agroman. They will also receive funding to cover the expenses related to developing the pilot, and they will have access to the company's international network of customers and providers. This is a unique opportunity to connect and collaborate with a leading multinational in the infrastructure sector that has over 90,000 employees, has a presence on six main markets, and is listed on the IBEX 35.
"We're looking for the opportunity to implement our methodology and, in turn, to be able to apply it to real-life cases. We will do this with support from the vast experience and knowledge that Ferrovial will contribute to us, thanks to the Build Up! program"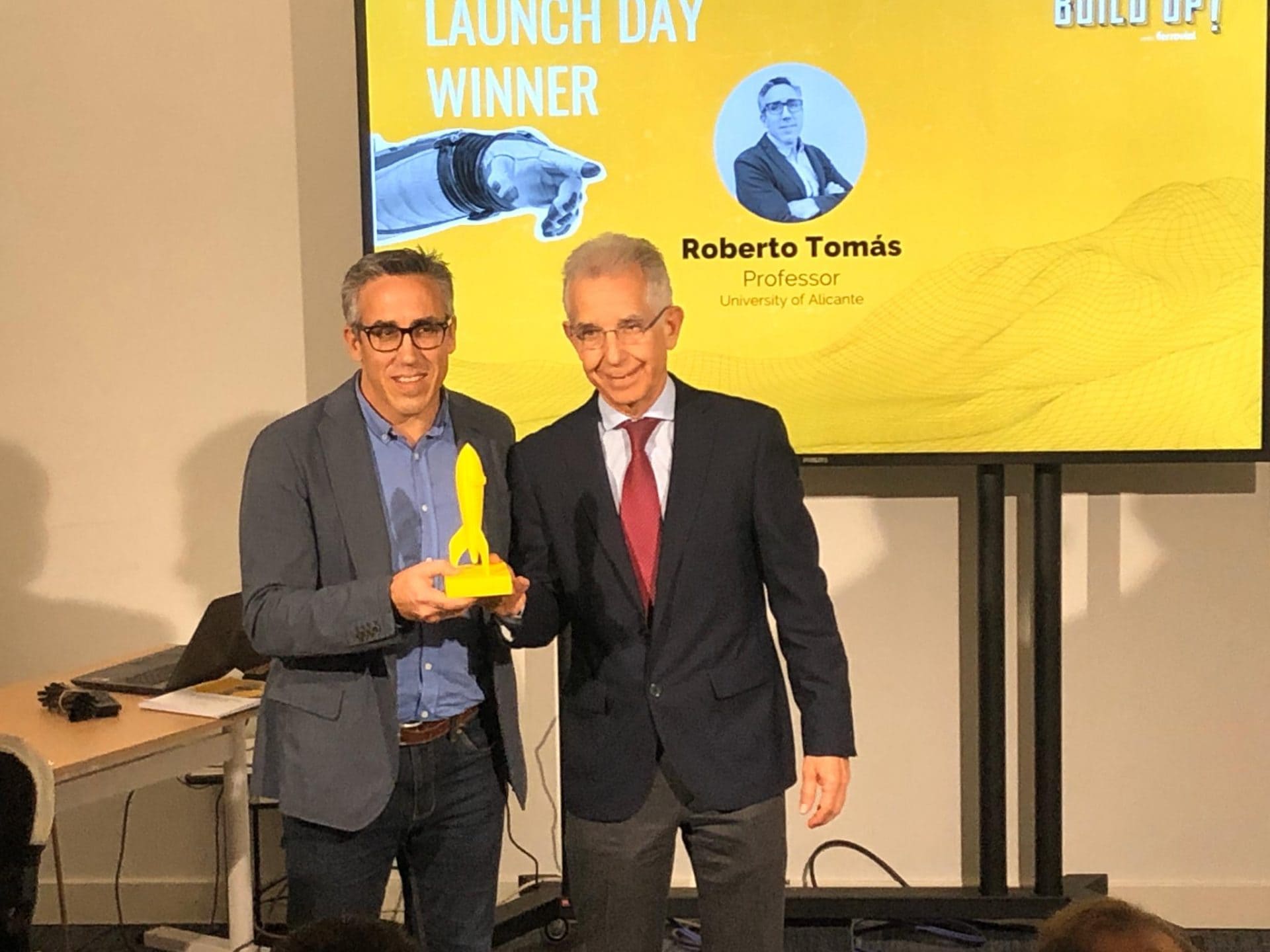 The other finalists that presented their projects at Launch Day alongside Tomás were:
Víctor Vilarrasa: with Dig Calm Vilarrasa, they want to deduce the properties of soil from measurements in its deformation and piezometric measurements from aquifers, with which they can obtain information on pressure changes in the pores.
César Rodríguez: his project consists of placing sensors of the terrain's surface before, during, and after construction to feed numerical models (FEM) with data obtained from these sensors and to be able to detect anomalies in real-time. The solution provides continuous monitoring over the entire timeframe of construction.
Michael Peronne: this finalist wants to revolutionize research on terrain with his project Egide, a new method based on using wireless sensors placed on the drilling rod that are combined with an Artificial Intelligence system capable of interpreting the data collected.
Ignacio Valverde: along with his team, he has developed a methodology that consists of combining traditional geotechnics with advanced geophysical methods. By using spatial auto-correlation techniques, they can calculate the speed at which sound waves are propagated in terrain and make inferences about the soil's parameters based on this measurement.
Davor Simic, Head of the Geotechnics Area at Ferrovial Agromán, remarks that "all of the projects presented were very valuable for Ferrovial Group. Each of the solutions has potential applications." He also believes that "the presentations were at a higher level than expected," and he is confident that "the winning project will offer Ferrovial significant competitive advantages."
For more details on the finalists' projects and the winning solution, there is information available on Build Up!'s webpage. As for the 2020 competition, all news and next dates will be published on Ferrovial's social media: LinkedIn, Twitter, Facebook, Instagram, and YouTube.
 More information:
newsroom.ferrovial.com
Contact e-mail: