June 5 is World Environment Day, a global initiative whose objective is promoting awareness about protecting the environment. As part of its social commitment, Ferrovial, along with Ayuda en Acción, has launched a project for developing water infrastructure in Peru following the environmental catastrophe of the 'El Niño' phenomenon that swept through the country in 2017.
Ferrovial, along with Ayuda en Acción, has launched a project for developing systems of water infrastructure in Peru. This initiative, which is developed under the 'Social Infrastructure' program, will contribute to improving access to potable water and sanitation for two communities located in the town of Cura Mori, near the city of Piura. This region in the north of the country was highly affected by the 'El Niño' phenomenon that swept through the country in 2017.
The more than 1,000 people living in these two communities are still suffering from the effects of the disaster, one of the biggest environmental catastrophes in Peru. The intense rainfall caused floods, landslides, and rising water levels that affected the primary infrastructure and means of communication. El Niño took the lives of 162 individuals, affected 1.5 million people, and caused damage for more than 280,000 in its wake. In addition, it has caused climate displacement, which has forced many people to leave their communities due to catastrophes linked to global warming. This phenomenon occurs when seawater rises above 25°C for periods lasting longer than the summer months.
The rising water level of the Piura River in Cura Mori caused both communities to flood, limiting access to public roads and destroying supply systems, as well as homes or land for cultivation. Most of the residents of these communities had to relocate to various places located near the Pan-American highway for months. Even today, there are many who are still in those fields, unable to return home and waiting for basic services.
This region of the country is one of the areas with the highest poverty indexes and one of the most affected by the El Niño phenomenon. Many of the homes don't have direct access to potable water, only receiving water for one hour every three days. They don't have bathrooms or any other sort of sanitation network.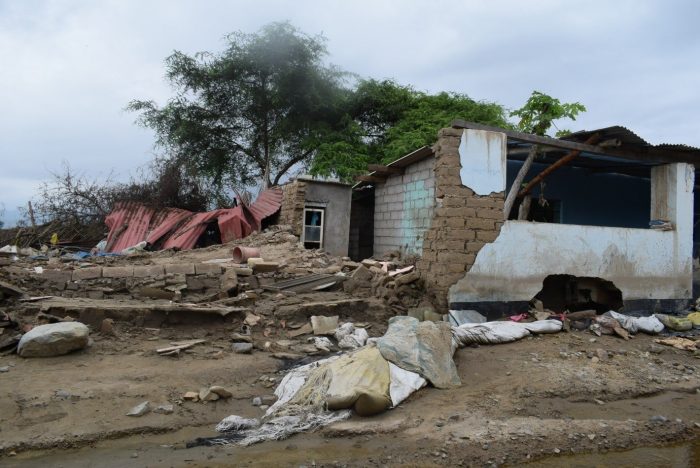 The project, which will be starting up at the beginning of 2020, includes improvements for water infrastructure, such as demolishing and building a new water tank 25 meters high and more than 80 cubic meters; a new plumbing network with home connections; maintenance for the pump systems; and installing 168 meters and 80 green latrines. In addition, the program will reinforce the abilities of local organizations to promote efficient use of water management; and awareness among the population in healthy hygiene habits.
Five volunteers and an environmental challenge
Five volunteers from Ferrovial participated in the project's kick-off. Specialists in areas like civil engineering, hydraulics, topography, security, and communication have worked for 15 days, taking preliminary measurements, analyses, seeking technical solutions, network design, and preliminary studies. This volunteer program enables company employees to support this project voluntarily through visits there and telematic support.
International cooperation in Latin America and Africa
Throughout 2019, Ferrovial is developing a second water project in Colombia with Acción contra el Hambre, as well; and a third in Zimbabwe, in collaboration with the NGO World Vision, to facilitate access to water for health centers and schools. In  11 years of the Social Infrastructure program, Ferrovial has started 25 water projects in impoverished communities in Africa and Latin America.